An agreement has been reached at an international conference on managing Japanese eel resources to more effectively clarify the distribution routes of young eels.
Delegates from Japan, South Korea and Taiwan ended the two-day meeting in Tokyo on Friday. They hope to save the Japanese eel from extinction.
Japan's fisheries agency says the amount of young eels caught in the country during the 4-month period through February this year was a record low 0.8 tons.
International officials have struggled to come up with effective measures to conserve stocks due to a lack of transparency regarding where young eels are caught and cultivated.
An agreement was reached at a previous conference to cut the total amount of eels delivered to fish farms by 20 percent from 2014.
Japan was hoping for a deeper cut at the latest conference, but officials refrained from tightening regulations as the biggest harvester, China, was absent for the fifth straight year.
絶滅が危惧されるニホンウナギの資源管理を話し合う国際会議で、稚魚であるシラスウナギを養殖池に入れる量の上限を6年連続で据え置くことが決まりました。
Sep 21
Toyota Motor has unveiled the first yacht under its Lexus luxury brand, with a 450 million yen ($4.17 million) price tag in Japan that aims it squarely at the super-rich.
(Nikkei)
Sep 20
A Japanese district court has found all three former executives of Tokyo Electric Power Company not guilty in the only criminal prosecution stemming from the 2011 nuclear disaster in Fukushima.
(NHK)
Sep 20
E-commerce giant Amazon Japan has announced it will launch a locker delivery service called Amazon Hub at the major convenience store chain FamilyMart and train stations along the Odakyu line.
(Japan Today)
Sep 18
Toyota Motor Corp. rolled out a new model of the Corolla on Tuesday, making it the first fully redesigned sedan in about seven years.
(Kyodo)
Sep 18
The Japanese government is considering tighter restrictions on foreign investment in industries it sees as key to national security, such as nuclear power and chipmaking.
(Nikkei)
Sep 13
Yahoo Japan's acquisition of online fashion retailer Zozo presents an opportunity for the venerable internet services company to bring fresh blood into its e-commerce audience as the business looks to step outside the shadow of Amazon.com and Rakuten.
(Nikkei)
Sep 11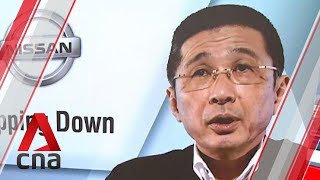 In Japan, is there one standard of justice for Japanese executives and another for non-Japanese executives? The forced resignation on Monday of Nissan Motor Co.'s chief executive officer, Hiroto Saikawa, certainly seems to suggest as much.
(Bloomberg)
Sep 11
Japan's real gross domestic product retreated 0.5% in July compared with the previous month as rising imports led to negative external demand, the Japan Center for Economic Research reported Wednesday.
(Nikkei)
Sep 10
The month between World Suicide Prevention Day on September 10 and World Mental Health Day on October 10 is a good time to start considering the under-discussed topics of anxiety, depression and suicide in our society, especially as they relate to the workplace.
(Nikkei)
Sep 10
Nissan Chief Executive Hiroto Saikawa tendered his resignation Monday after acknowledging that he had received dubious income and vowed to pass the leadership of the Japanese automaker to a new generation.
(Japan Today)
---