A 24-year-old man was arrested Monday on suspicion of threatening to kill a member of a sister group of the popular girl band AKB48, police said.
Kazuki Domoto was arrested for threatening Yuka Ogino, a member of NGT48 based in Niigata city northwest of Tokyo, by sending a letter to a news organization by fax on May 9 suggesting he would kill her, according to the police.
Last December two people were arrested for allegedly assaulting another NGT48 member, Maho Yamaguchi, who left the group on Saturday. AKS Co., a management company for NGT48, came under criticism for its handling of Yamaguchi's case as it did not reveal the incident until she referred to it in a Twitter post.
The Niigata prefectural police said Domoto from Kyoto Prefecture admitted to sending the fax but denied any intention of killing Ogino. The police said a record of the letter's transmission from a convenience store in Kyoto and security camera footage led to Domoto's arrest.
新潟市を拠点に活動するアイドルグループ「NGT48」に所属する荻野由佳さんを脅迫した疑いで、警察は、京都府に住む24歳の無職の男を逮捕した。
Nov 14
Japan's space agency says its probe is on its way back to Earth after leaving the asteroid, Ryugu.
(NHK)
Nov 14
Chief Cabinet Secretary Yoshihide Suga says the government will not hold a cherry blossom-viewing party next year, which is hosted every April by the prime minister.
(NHK)
Nov 14
NHK has learned that a boy who was arrested for allegedly wounding a girl with a knife in northern Japan has suggested he was interested in killing someone.
(NHK)
Nov 14
Japanese immigration authorities say 219 foreigners were staying in Japan as of the end of September after acquiring a new type of work visa for people with vocational skills.
(NHK)
Nov 12
One month has passed since record rain brought by a strong typhoon caused extensive damage in much of Japan.
(NHK)
Nov 12
Two days after he fled in Osaka Prefecture, prosecutors on Monday caught a man indicted on drug charges who escaped while being transferred to police custody after his bail was revoked.
(Japan Times)
Nov 12
On Thursday evening, Emperor Naruhito will dress in pure white robes and be ushered into a dark wooden hall for his last major enthronement rite: spending the night with a "goddess."
(Japan Today)
Nov 11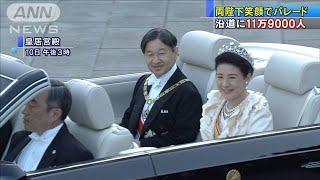 Japan's new Emperor and Empress enthralled people in Tokyo and around the nation with a lavish procession through the streets of the capital.
(NHK)
Nov 10
The suspect in a deadly arson attack in July on a Kyoto Animation Co studio has been questioned by police for the first time as he recovers from severe burns, investigative sources said Saturday.
(Japan Today)
Nov 09
Mt Sakurajima volcano shot smoke and ash miles into the sky on Friday in its biggest eruption in more than three years, Kyodo News reported.
(Japan Today)
---