A Japanese lawmaker said Monday he will not resign as a Diet member after opposition parties submitted a joint motion urging him to quit for alluding to Japan waging war with Russia to regain control of a group of disputed islands.
"I definitely cannot resign even if the motion is passed," Hodaka Maruyama said, calling the submission of a motion directed against a person's remarks a "serious situation."
Talking to the media for the first time after the Japan Innovation Party expelled him on Tuesday, he said that the Diet, as a place for free speech, is "signing its own death warrant" with the motion.
Maruyama drew flak for a comment made when accompanying former Japanese residents of the disputed islands off Hokkaido on a visa-free visit to one of them. While drunk, he asked one of the former residents, "Do you think there is any alternative to war (to recover the islands)?"
"I entirely believe my remarks do not deviate from the principles of the Constitution," he said Monday.
Article 9 of the Constitution prohibits Japan from possessing military forces and other "war potential."
Maruyama also demanded an apology from Osaka Mayor Ichiro Matsui, the head of the party, who wrote on Twitter he "heard alcohol addiction causes mental damage," apparently referring to reports of Maruyama causing problems after drinking in the past.
辞職勧告決議案が可決された場合も、議員辞職しない考えをあらためて示した。
Jun 19
The Japan Meteorological Agency says a magnitude-6.7 quake struck the northern part of the country late Tuesday night. No fatalities have been reported. Tsunami advisories issued along the Sea of Japan coast have been lifted.
(NHK)
Jun 19
Chief Cabinet Secretary Yoshihide Suga says people in the affected areas should remain on the alert.
(NHK)
Jun 19
The Tokyo District Court on Tuesday sentenced Pierre Taki, an actor and member of Japanese techno-pop duo Denki Groove, to 18 months in prison, suspended for three years, for using cocaine.
(Japan Times)
Jun 19
Almost half of singles in Japan who wish to get married are unable to find a suitable partner, with 61.4 percent of the group stating they are not doing anything to change the situation, a government survey showed Tuesday.
(Japan Today)
Jun 19
A 62-year-old man wanted by police on suspicion of stabbing his former wife in Noboribetsu City, Hokkaido, has been found dead in a forest, police said Monday.
(Japan Today)
Jun 18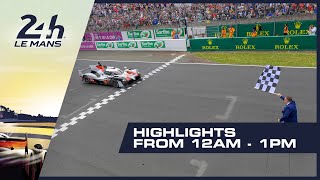 Toyota drivers Kazuki Nakajima, Fernando Alonso and Sebastian Buemi claimed their second consecutive 24 Hours of Le Mans victory Sunday, but only after some bad luck scuttled their sister car's hopes of a win.
(Kyodo)
Jun 18
Police in Kakegawa City, Shizuoka Prefecture, have arrested a 23-year-old woman on suspicion of attempted murder after she abandoned her newborn baby daughter in a business hotel's toilet.
(Japan Today)
Jun 18
Defense Minister Takeshi Iwaya apologized Monday to Akita Gov. Norihisa Satake for errors in the ministry's geographical survey that was used to select the northeastern prefecture as a candidate for hosting a U.S.-developed missile defense system.
(Japan Times)
Jun 18
Japanese e-commerce giant Rakuten and supermarket chain Seiyu are starting a drone delivery service for summer visitors to an island off Yokosuka, near Tokyo.
(NHK)
Jun 17
Osaka Prefectural Police have arrested a man for allegedly stabbing a police officer and stealing his gun in Suita City on Sunday, reports Fuji News Network (June 17).
(tokyoreporter.com)
---