Japan's economy unexpectedly grew in the first quarter, giving Prime Minister Shinzo Abe some momentum to go ahead with his plan to raise the country's consumption tax this fall.
Gross domestic product for the quarter expanded at an annualized rate of 2.1%, preliminary figures released by the Cabinet Office showed on Monday, much better than the 0.2% contraction forecast by economists in a Reuters poll.
The gain was attributed to positive net exports and an increase in government spending, which offset weaker private investment and personal consumption. This follows a 1.6% expansion in the previous quarter and marks Japan's fastest growth rate since the April-June term of 2018.
Shortly after the figures were released, Economic Revitalization Minister Toshimitsu Motegi told reporters that "there is no change in the idea of raising [the consumption tax] in October" to 10%, from 8%.
Marcel Thieliant, senior Japan economist for Capital Economics, said the economy's "surprising resilience" suggests Abe will follow through with the tax increase.
Masamichi Adachi at JPMorgan Securities Japan agreed. "We now see lower probability of the postponement of the scheduled hike in October to less than 30%, from 30-40% we had thought before the release" of the GDP.
Yet, a closer look at the figures reveals that a continued economic recovery is far from certain.
Sep 21
Toyota Motor has unveiled the first yacht under its Lexus luxury brand, with a 450 million yen ($4.17 million) price tag in Japan that aims it squarely at the super-rich.
(Nikkei)
Sep 20
A Japanese district court has found all three former executives of Tokyo Electric Power Company not guilty in the only criminal prosecution stemming from the 2011 nuclear disaster in Fukushima.
(NHK)
Sep 20
E-commerce giant Amazon Japan has announced it will launch a locker delivery service called Amazon Hub at the major convenience store chain FamilyMart and train stations along the Odakyu line.
(Japan Today)
Sep 18
Toyota Motor Corp. rolled out a new model of the Corolla on Tuesday, making it the first fully redesigned sedan in about seven years.
(Kyodo)
Sep 18
The Japanese government is considering tighter restrictions on foreign investment in industries it sees as key to national security, such as nuclear power and chipmaking.
(Nikkei)
Sep 13
Yahoo Japan's acquisition of online fashion retailer Zozo presents an opportunity for the venerable internet services company to bring fresh blood into its e-commerce audience as the business looks to step outside the shadow of Amazon.com and Rakuten.
(Nikkei)
Sep 11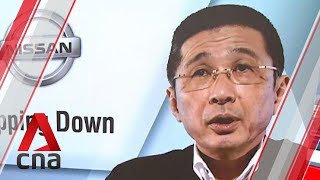 In Japan, is there one standard of justice for Japanese executives and another for non-Japanese executives? The forced resignation on Monday of Nissan Motor Co.'s chief executive officer, Hiroto Saikawa, certainly seems to suggest as much.
(Bloomberg)
Sep 11
Japan's real gross domestic product retreated 0.5% in July compared with the previous month as rising imports led to negative external demand, the Japan Center for Economic Research reported Wednesday.
(Nikkei)
Sep 10
The month between World Suicide Prevention Day on September 10 and World Mental Health Day on October 10 is a good time to start considering the under-discussed topics of anxiety, depression and suicide in our society, especially as they relate to the workplace.
(Nikkei)
Sep 10
Nissan Chief Executive Hiroto Saikawa tendered his resignation Monday after acknowledging that he had received dubious income and vowed to pass the leadership of the Japanese automaker to a new generation.
(Japan Today)
---