The Tokyo District Court on Tuesday sentenced Pierre Taki, an actor and member of Japanese techno-pop duo Denki Groove, to 18 months in prison, suspended for three years, for using cocaine.
The court ruled that Taki, 52, whose real name is Masanori Taki, snorted a small amount of cocaine at an apartment in Tokyo around March 12.
The judge said Taki was not addicted to cocaine but continued using it in repeated violation of the law.
"(Taki) used cocaine alone while watching movies and listening to music to relieve stress from work, being under pressure in his private life as he expanded his activities from being a musician to acting," Judge Hironobu Ono said in handing down the ruling.
Ono, however, gave Taki a suspended term, taking into consideration the fact that he has been discharged from his management company and is under the supervision of a doctor to ensure he does not take cocaine again.
"I am very sorry for causing so much trouble to everyone. I will keep in mind that I should never do this kind of thing again" Taki said in a statement after the ruling.
コカインを使用した罪に問われた元ミュージシャンのピエール瀧被告(52)に対して東京地裁は懲役1年6カ月、執行猶予3年の有罪判決を言い渡しました。 (社会部・古賀康之記者報告) 主文を言い渡した後、裁判官は薬物事件の裁判では異例ともいえる約10分にわたって瀧被告に説諭をしました。その際、裁判官は何度も「人生」という言葉を使って話をしていました。ピエール瀧こと瀧正則被告は今年3月、コカインを使用した麻薬取締法違反の罪に問われています。今月5日の初公判で検察側は懲役1年6カ月を求刑したのに対し、弁護側は執行猶予付きの判決を求めていました。18日の判決で東京地裁は「常習的な犯行」などとして懲役1年6カ月、執行猶予3年の判決を言い渡しました。主文を言い渡した後、裁判官は瀧被告の関係先で撮影された「人生」という文字が写っている写真を見せました。そして、「人生の持つ意味を考えて下さい」などと話すと瀧被告は神妙な表情で話を聞いていました。
Oct 16
Authorities in Japan are still trying to get a handle on the extent of the damage after Typhoon Hagibis tore through the country. At least 74 people have been confirmed dead.
(NHK)
Oct 16
NHK has learned that more than 13,000 homes were flooded due to Typhon Hagibis which swept across Japan.
(NHK)
Oct 16
As a fuller picture of the damage from Typhoon Hagibis emerges, Japan faces weeks of delays in restoring some train service, but supply chains weathered the storm relatively well, attesting to the rise of disaster planning.
(Nikkei)
Oct 16
Japan manages a rare feat for a developed country when it comes to feeding its children -- high scores for nutrition but very low obesity rates. One major key? School lunches.
(Japan Today)
Oct 15
Tokyo, Kyoto and Osaka rank among the world's best 10 large cities -- with the Japanese capital topping the list for a fourth successive year -- according to U.S. luxury and lifestyle travel magazine Conde Nast Traveler.
(Japan Today)
Oct 14
A Tokyo Fire Department helicopter rescuing a 77-year-old woman in Iwaki, Fukushima Prefecture, who had been isolated because of flooding caused by Typhoon Hagibis, accidentally dropped her about 40 meters to the ground because her rescuers did not properly attach her to the rope when they were attempting to winch her to safety during the botched operation.
(Japan Times)
Oct 14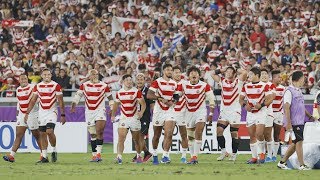 Japan captain Michael Leitch said Sunday's historic win over Scotland at the Rugby World Cup was the Brave Blossoms' way of helping the nation in the aftermath of Typhoon Hagibis and thanking those that helped put the game on.
(Kyodo)
Oct 14
Japan has canceled its first fleet review of the new Reiwa era as the Self-Defense Forces support areas of the country battered by Typhoon Hagibis.
(Nikkei)
Oct 12
In the month of October Japan celebrates "Sports Day" which is the anniversary of the 1964 Tokyo Olympics and a holiday to inspire exercise for all. Around this time, schools all over the country hold Sports Festivals where they take part in a variety of physical activities from dancing to relay races.
(soranews24.com)
Oct 11
Rugby World Cup organizers announced Thursday that two crucial pool games scheduled to take place on Saturday have been canceled to avoid the impact of a massive super typhoon set to hit the country.
(Japan Times)
---