Junnosuke Taguchi, a former member of male idol group Kat-tun, pleaded guilty Thursday to possessing marijuana in the first hearing of his trial at the Tokyo District Court.
His partner, former actress Rena Komine, who faces the same charge, also entered a guilty plea. The two said there was "no mistake" in their indictment.
Prosecutors sought a six-month jail term for both, saying they have used marijuana for some 10 years and there is a high likelihood of re-offending.
The trial concluded Thursday and the court is due to hand down a ruling July 30. The defense is seeking a suspended sentence.
The 33-year-old Taguchi, wearing a black suit, told the court that Komine, 38, introduced him to marijuana and he began using it for stress relief.
"I betrayed my fans and people around me as well as myself. I want to rehabilitate and lead a decent life," he said, adding he wants to continue his career in acting and maintain his relationship with Komine.
Komine said she suffered from sleep and eating disorders due to harassment she received after her relationship with Taguchi was reported by media, and she began using marijuana as a way of coping.
According to the indictment, Taguchi and Komine were found in possession of about 2.2 grams of marijuana on May 22 at the Tokyo apartment they shared.
乾燥大麻を所持していたとして起訴されたアイドルグループ『KAT-TUN』の元メンバー、田口淳之介被告(33)と女優の小嶺麗奈被告(38)の初公判が11日に開かれた。大麻を使用した理由について、田口被告は「仕事や人間関係のストレスがあった」と供述。小嶺被告は、田口被告との交際後に「悪質なファンからの嫌がらせによるストレスがあった」と述べた。田口被告との交際について聞かれると「続けていきたい。今後、交際を続けるなら結婚したい」と話した。また、田口被告も「僕も続けていきたい」と語った。検察側は、常習性があり再犯の恐れがあることから、2人に懲役6カ月を求刑。一方、弁護側は、更生に2人の絆が必要だと訴え、それぞれに執行猶予付きの判決を求めている。判決は30日に言い渡される。
Oct 16
Authorities in Japan are still trying to get a handle on the extent of the damage after Typhoon Hagibis tore through the country. At least 74 people have been confirmed dead.
(NHK)
Oct 16
NHK has learned that more than 13,000 homes were flooded due to Typhon Hagibis which swept across Japan.
(NHK)
Oct 16
As a fuller picture of the damage from Typhoon Hagibis emerges, Japan faces weeks of delays in restoring some train service, but supply chains weathered the storm relatively well, attesting to the rise of disaster planning.
(Nikkei)
Oct 16
Japan manages a rare feat for a developed country when it comes to feeding its children -- high scores for nutrition but very low obesity rates. One major key? School lunches.
(Japan Today)
Oct 15
Tokyo, Kyoto and Osaka rank among the world's best 10 large cities -- with the Japanese capital topping the list for a fourth successive year -- according to U.S. luxury and lifestyle travel magazine Conde Nast Traveler.
(Japan Today)
Oct 14
A Tokyo Fire Department helicopter rescuing a 77-year-old woman in Iwaki, Fukushima Prefecture, who had been isolated because of flooding caused by Typhoon Hagibis, accidentally dropped her about 40 meters to the ground because her rescuers did not properly attach her to the rope when they were attempting to winch her to safety during the botched operation.
(Japan Times)
Oct 14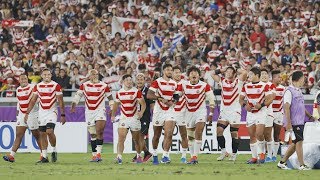 Japan captain Michael Leitch said Sunday's historic win over Scotland at the Rugby World Cup was the Brave Blossoms' way of helping the nation in the aftermath of Typhoon Hagibis and thanking those that helped put the game on.
(Kyodo)
Oct 14
Japan has canceled its first fleet review of the new Reiwa era as the Self-Defense Forces support areas of the country battered by Typhoon Hagibis.
(Nikkei)
Oct 12
In the month of October Japan celebrates "Sports Day" which is the anniversary of the 1964 Tokyo Olympics and a holiday to inspire exercise for all. Around this time, schools all over the country hold Sports Festivals where they take part in a variety of physical activities from dancing to relay races.
(soranews24.com)
Oct 11
Rugby World Cup organizers announced Thursday that two crucial pool games scheduled to take place on Saturday have been canceled to avoid the impact of a massive super typhoon set to hit the country.
(Japan Times)
---