Princess Mako paid a visit to Peruvian President Martin Vizcarra on Thursday in Lima during her trip to mark the 120th anniversary of the start of Japanese immigration to the South American country.
"I feel Japanese Peruvians are treated very well in Peru. I'm grateful that Peru accepted Japanese immigrants," the 27-year-old princess, the eldest daughter of Crown Prince Akishino, said during the meeting at the president's office.
Vizcarra said he is glad that Japanese Peruvians are actively involved in various fields.
The president also showed his gratitude to Japan's contribution to Peru in the areas of technological and economic cooperation and archaeology.
Their 25-minute meeting was preceded by a guard of honor formed for the kimono-clad princess by the Peruvian military.
At a subsequent luncheon hosted by the president, Princess Mako said, "I hope the bilateral friendship that has been fostered by many people for a long time will be maintained for many years to come."
The president proposed to the princess that they play tennis together when she visits Peru next time. Vizcarra is a former Peruvian champion of paleta fronton, a sport similar to squash. The princess is honorary chair of the Japan Tennis Association.
Oct 16
The government's response to Typhoon Hagibis dominated Tuesday's debate in the Diet.
(NHK)
Oct 14
Japan has canceled its first fleet review of the new Reiwa era as the Self-Defense Forces support areas of the country battered by Typhoon Hagibis.
(Nikkei)
Oct 09
An art exhibition that sparked controversy for featuring a statue symbolizing "comfort women" reopened Tuesday in Nagoya, with organizers placing tighter security and limiting the number of visitors after it was abruptly closed two months ago following threats.
(Japan Times)
Oct 06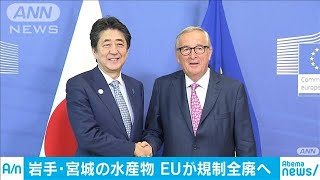 The European Union has informed the Japanese government that it will likely ease import restrictions on Japanese food products before the end of the year.
(NHK)
Oct 04
Japan is ready to share, as requested by South Korea, information related to the launch a day earlier of what North Korea claims to have been a submarine-launched ballistic missile, government sources said Thursday.
(Kyodo)
Oct 03
North Korea's state-run media reports that the country has succeeded in test-firing a submarine-launched ballistic missile, or SLBM.
(NHK)
Oct 02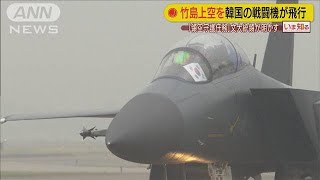 A South Korean F-15 fighter jet has flown over the Takeshima Islands in the Sea of Japan as part of an Armed Forces Day ceremony. The islands are controlled by South Korea but claimed by Japan.
(NHK)
Oct 02
Prime Minister Shinzo Abe said Tuesday Japan's national interests are protected under a trade agreement with the United States but he vowed to prepare measures to address the concerns of farmers in the country before the pact takes effect.
(Kyodo)
Oct 01
In Japan, the consumption tax rose from 8 to 10 percent on Tuesday. The government says the increase was needed to help cover ballooning social security costs and pay down massive public debt.
(NHK)
Oct 01
NHK has learned that a deceased deputy town mayor in Fukui Prefecture kept a detailed list of cash and gifts he gave to officials of Kansai Electric Power Company, which runs a nuclear power plant in the town.
(NHK)
---