Japan's 100-yen shops are stepping up store openings as they continue to gain ground among thrifty consumers, with supermarkets and drugstores seeking them out as tenants to draw customers, shifting the dynamic in the nation's retail landscape.
The top four players, which offer a wide range of goods from clothing and food to toiletries and stationery that sell for 100 yen (93 cents), are on track to surpass their convenience store rivals in terms of net store openings this fiscal year.
Daiso Sangyo, the leading 100-yen shop operator in terms of sales, plans to open 170 locations during the current fiscal year. Runner-up Seria will open 150 outlets, while Can Do and Watts will add 80 and 115 stores respectively.
The 515 shops, combined with planned store closings, produce a net 310 openings, which would exceed the 276 net openings for the three largest convenience store chains. The previous fiscal year had a record 537 new 100-yen shops open, but the net sum amounted to 294.
The four 100-yen shop chains, which operate 7,128 outlets in total, still pale in scale in comparison to the country's top three convenience stores, Seven-Eleven Japan, FamilyMart and Lawson, which oversee 51,965 stores combined. But the convenience stores are cutting back on openings in the face of labor shortages.
Partnerships with supermarkets are fueling the 100-yen shops' expansion. Inageya, a midtier supermarket chain, drew Daiso to set up shop on the second floor of a supermarket that opened last month in Kawasaki, a city in the greater Tokyo area.
"By having a 100-yen shop sell daily necessities, we were able to expand the shopping area for deli and fresh food," said an Inageya spokesperson. This is a classic example of a supermarket giving up on selling everyday goods and turning to a 100-yen shop to fill that need for customers on its premises.
Other retailers have joined the bandwagon. Drugstore chain Tsuruha Drug installed 100-yen stores in about 20 of its 2,000 outlets while Shimachu, a furniture and hardware seller, started adding the shops in 2017 and now has 18 in its stores. The 100-yen shops have lured a different type of customer, a Shimachu spokesperson said.
Aug 11
SoftBank Group on Tuesday reported a net profit of 1.25 trillion yen ($11.8 billion) in the April-June quarter thanks to the merger and sale of its stake in U.S. mobile carrier Sprint, marking a return to profit after suffering its worst ever loss in the previous quarter.
(Nikkei)
Aug 10
Despite uncertainties from COVID-19, top Japanese corporations plan to invest 15.8% more in information technology in fiscal 2020 to keep up the wave of digitization across industries.
(Nikkei)
Aug 10
Colorful kimono are synonymous with Tokyo summer celebrations but anti-coronavirus measures have put social gatherings off-limits and led struggling department stores to push the traditional Japanese outfits as a way to make a virtual fashion statement.
(Japan Times)
Aug 07
Official figures indicate that Japanese households may be recovering from the economic impact of COVID-19. Spending was down in June, but by a much smaller margin than the month before.
(NHK)
Aug 07
Japan's powerful business lobby, the Keidanren, is dominated by energy-intensive sectors that represent less than 10 percent of the economy, resulting in national policies that favour coal and hindering attempts to combat climate change, a new study said.
(aljazeera.com)
Aug 07
Toyota's profit plunged 74% in the last quarter as the coronavirus pandemic sank vehicle sales to about half of what the top Japanese automaker sold the previous year.
(krmg.com)
Aug 06
The average summer bonus at major Japanese companies this year dropped 2.17 percent from a year earlier to ¥901,147, a Japan Business Federation survey showed Wednesday.
(Japan Times)
Aug 06
Uber Technologies has begun to offer a food delivery subscription in Japan that replaces per-order fees, tapping into the growing demand from consumers holed up at home from the coronavirus.
(Nikkei)
Aug 05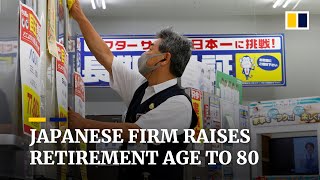 Japan's decision to offer an initial group of 87 companies subsidies totalling US$653 million to expand production at home and in Southeast Asia has sparked debate whether the world's third largest economy is trying to gradually decouple from China.
(scmp.com)
Aug 05
About 60 percent of people in the nation who developed cold-like symptoms during the first wave of the novel coronavirus pandemic, between February and May, went to work despite a request by the government for them not to do so, a recent survey has found.
(Japan Times)
---