A man who was considered abducted by North Korea has been confirmed dead in Japan, police said on Friday, reports TV Asahi (Sept. 7).
According to police, Takeshi Saito went missing after resigning from his company in Yokohama City, Kanagawa Prefecture in October, 1983 at age of 38.
In April of last year, the body of Saito, a native of Sakata City, Yamagata, was discovered at an unspecified location in Japan.
No details of the circumstances of the discovery were provided. However, he was not involved in a crime and his disappearance was not connected to North Korea, police said.
According to the National Police Agency, a total of 880 missing Japanese nationals are believed to have been abducted by North Korea.
The NPA web site includes the names, photographs and backgrounds of some of the missing persons.
Saito is the third such person to be located in Japan this year. Earlier this month, a man who went missing in 1974 was confirmed safe. In May, police revealed that another man from Chiba Prefecture was found safe.
拉致の可能性がある「特定失踪者」に認定されていた山形県出身の男性が遺体で見つかりました。警察は北朝鮮による拉致の可能性はなかったとしています。 山形県酒田市出身の斎藤武さん(当時38)は1983年10月下旬、当時勤めていた横浜市の会社を退職した後に行方不明となり、民間の「特定失踪者問題調査会」が斎藤さんを北朝鮮に拉致された可能性がある特定失踪者に認定していました。警察によりますと、去年4月、日本国内で発見された遺体が斎藤さん本人だと確認されたということです。詳しい発見場所や遺体の状況などは明らかにしていませんが、遺体には犯罪に巻き込まれたような形跡はなく、拉致の可能性はなかったということです。
Oct 16
Authorities in Japan are still trying to get a handle on the extent of the damage after Typhoon Hagibis tore through the country. At least 74 people have been confirmed dead.
(NHK)
Oct 16
NHK has learned that more than 13,000 homes were flooded due to Typhon Hagibis which swept across Japan.
(NHK)
Oct 16
As a fuller picture of the damage from Typhoon Hagibis emerges, Japan faces weeks of delays in restoring some train service, but supply chains weathered the storm relatively well, attesting to the rise of disaster planning.
(Nikkei)
Oct 16
Japan manages a rare feat for a developed country when it comes to feeding its children -- high scores for nutrition but very low obesity rates. One major key? School lunches.
(Japan Today)
Oct 15
Tokyo, Kyoto and Osaka rank among the world's best 10 large cities -- with the Japanese capital topping the list for a fourth successive year -- according to U.S. luxury and lifestyle travel magazine Conde Nast Traveler.
(Japan Today)
Oct 14
A Tokyo Fire Department helicopter rescuing a 77-year-old woman in Iwaki, Fukushima Prefecture, who had been isolated because of flooding caused by Typhoon Hagibis, accidentally dropped her about 40 meters to the ground because her rescuers did not properly attach her to the rope when they were attempting to winch her to safety during the botched operation.
(Japan Times)
Oct 14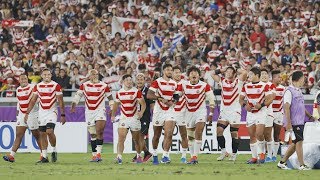 Japan captain Michael Leitch said Sunday's historic win over Scotland at the Rugby World Cup was the Brave Blossoms' way of helping the nation in the aftermath of Typhoon Hagibis and thanking those that helped put the game on.
(Kyodo)
Oct 14
Japan has canceled its first fleet review of the new Reiwa era as the Self-Defense Forces support areas of the country battered by Typhoon Hagibis.
(Nikkei)
Oct 12
In the month of October Japan celebrates "Sports Day" which is the anniversary of the 1964 Tokyo Olympics and a holiday to inspire exercise for all. Around this time, schools all over the country hold Sports Festivals where they take part in a variety of physical activities from dancing to relay races.
(soranews24.com)
Oct 11
Rugby World Cup organizers announced Thursday that two crucial pool games scheduled to take place on Saturday have been canceled to avoid the impact of a massive super typhoon set to hit the country.
(Japan Times)
---