A 15-year-old boy who had previously complained about being bullied at school has died in an apparent suicide after falling from a building in Saitama Prefecture, investigative sources said Monday.
Shinnosuke Komatsuda, who died Sunday after falling from an apartment building in Kawaguchi, left a journal entry criticizing his school for its lack of response to his repeated pleas for help, the sources said.
A third-party committee formed by the Kawaguchi city board of education was looking into the alleged bullying at the unnamed public school and is confirming details on the boy's death.
"The board of education are huge liars. They protect the bullies and lie," he had written in a journal entry dated Sept 6, according to the sources. "Why does someone who is bullied like me have to suffer so much?"
The boy's mother, whose identity has not been publically released, was scathing about her son's treatment.
"My son was betrayed by the school, abandoned by the educational board and harmed by the perpetrators," Komatsuda's mother said after his death. "Please thoroughly investigate the cause, even if from now."
Komatsuda started at the junior high school in April 2016, according to the city's educational board. The bullying began around May when classmates and older students from his after-school soccer team started to insult and ignore him.
Komatsuda handed letters to his homeroom teacher several times pleading for help in September 2016, but the school's lack of response apparently led to his first suicide attempt, investigators said.
「教育委員会は大ウソつき」と書き残していました。 埼玉県立高校1年・小松田辰乃輔さん(15)は8日、埼玉県川口市のマンションから飛び降りて死亡しました。遺族の代理人によりますと、本人のノートには教育委員会は大ウソつきと書かれていました。これまでに小松田さんは自殺未遂を3回繰り返していて、おととし、教育委員会は小松田さんが所属する部活動でいじめがあったことを認め、第三者委員会を設置していました。ただ、調査の経過報告は小松田さん側に伝わっていませんでした。市教委は「経緯も含めて調査していきたい」としています。
Dec 10
In Japan these days it seems that conservatives want to change things and progressives want to cling to the status quo. An apparently minor, but highly symbolic, example is Prime Minister Shinzo Abe's government's proposal to change the order of Japanese names when written in the Latin or Western alphabet.
(Nikkei)
Dec 09
Jikei Hospital in the city of Kumamoto, known for its "Konotori no Yurikago" (storks' cradle) baby hatch, will start a program allowing women to give birth while keeping their names secret, a senior official has said.
(Japan Times)
Dec 07
SoftBank Corp. and the University of Tokyo have agreed to open artificial-intelligence centers staffed with specialists from the university and around the world, to swiftly turn research into profitable business ventures so Japan can keep up with the U.S. and China.
(Japan Times)
Dec 07
Typical cheerleading clubs in schools, known as ōendan, consist of men clad in black gakuran stand-up collar uniforms yelling vigorously and performing synchronized, dynamic choreographed moves to support sports teams.
(Japan Times)
Dec 04
A welfare ministry panel said Tuesday that forcing children to sit extensively in the formal Japanese style known as seiza will be recognized as a morally unacceptable form of punishment under a new law that will enter into force next April.
(Japan Today)
Dec 04
Japanese students ranked at their lowest level ever in reading while remaining in the top band in science and mathematics in a triennial international survey on academic ability, the OECD said Tuesday.
(Japan Times)
Dec 03
A group of university students is calling for the elimination of sexual harassment by recruiters and other company workers during their job-hunting activities.
(Japan Times)
Dec 02
Stronger penalties for drivers using mobile phones behind the wheel took effect in Japan on Sunday in the wake of an outcry from families who lost loved ones in traffic accidents caused by such drivers.
(Japan Today)
Dec 02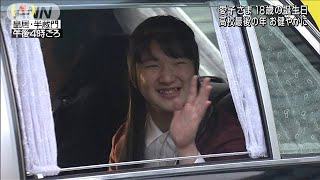 Princess Aiko, the only child of Emperor Naruhito and Empress Masako, turned 18 on Sunday, enjoying her last year in high school as she prepares to move on for further studies at university starting next spring.
(Kyodo)
Dec 01
Slurping down a steaming hot bowl of ramen is a great way to warm the soul on a cold winter's day but overindulging in the dish could prove deadly, a British medical paper has warned.
(Japan Times)
---