Toyota Motor Corp. rolled out a new model of the Corolla on Tuesday, making it the first fully redesigned sedan in about seven years.
Featuring a low center of gravity with a sportier design, the new sedan has a touch screen display that can send texts, play music and use navigation applications while connected with smartphones, Toyota said in a news release.
The new Corolla is also equipped with the latest safety system that detects pedestrians and bicycles at night, the Japanese automaker said.
The Corolla has sold over 47.5 million vehicles worldwide since its debut in 1966. The latest model is the 12th of its kind.
Toyota unveiled two types with gasoline engines of 1.8 liters and 1.2 liters, as well as one with a hybrid engine of 1.8 liters.
Retail prices of the new Corolla will range from 1.936 million yen ($17,904) to 2.948 million yen.
May 26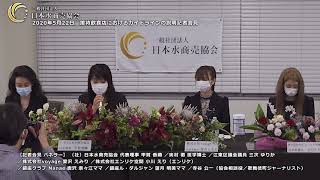 An association comprised of hostess clubs has issued guidelines for how clubs will operate once they reopen due to the lifting of the state of emergency caused by the novel coronavirus pandemic.
(tokyoreporter.com)
May 26
Japanese consumers are spending more on masks, cleaning products and personal sanitizers while sales of makeup and motion sickness medicine take a major hit.
(Nikkei)
May 26
A pair of melons grown in the Hokkaido city of Yubari sold for ¥120,000 ($1,100) in the season's first auction on Monday, 2.4 percent of the price at last year's auction.
(Japan Times)
May 26
COVID-19 has decimated many nations around the globe, and we've seen industries crumble under the impact of this deadly virus.
(newsonjapan.com)
May 25
Among the types of businesses that were requested to shut their doors due to the high risk of cluster infections of the coronavirus were pachinko parlors. At a press conference on May 13, however, the Tokyo Medical Association backtracked on its earlier opinions, posting a retraction and apology.
(Japan Today)
May 25
The coronavirus pandemic is yanking corporate Japan into the 21st century, forcing businesses to embrace digital signatures and boosting the shares of Bengo4.com Inc., one of the few local providers of the service.
(Japan Times)
May 24
Major department stores ramped up operations Saturday following a six-week suspension for the coronavirus pandemic.
(Japan Times)
May 23
Core consumer prices fell from a year earlier in April, recording the first decline in 40 months, government data showed Friday.
(Japan Times)
May 23
Japan has a little bit of a mixed history with gambling.
(newsonjapan.com)
May 22
U.S. authorities on Wednesday arrested a former U.S. Army Special Forces soldier and another man in Massachusetts wanted by Japan on charges that they enabled the escape of former Nissan Motor Co boss Carlos Ghosn out of the country.
(Japan Times)
---