Japanese weather forecasters warn that a large and violent typhoon may approach wide areas from western to northern Japan over the weekend.
The Meteorological Agency says Typhoon Hagibis is heading northwest near the Mariana Islands as of Tuesday evening, Japan time.
The agency says the typhoon could come very close to western and eastern Japan before moving toward northern Japan on Saturday through Sunday.
Winds will begin to grow strong in the Ogasawara Islands on Wednesday, and seas will become very rough from Thursday.
Rough sea conditions are forecast also for the Daitojima region in Okinawa Prefecture and the Amami region in Kagoshima Prefecture from Thursday. Waves will be high along the Pacific coast of eastern and western Japan from Friday.
The agency says Hagibis developed rapidly in 24 hours into what US weather officials call a super-typhoon. In the US, a typhoon packing winds up to around 210 kilometers per hour is categorized as a super-typhoon.
The agency says Hagibis's central atmospheric pressure decreased by 77 hectopascals from Sunday to Monday.
Professor Kazuhisa Tsuboki of Nagoya University says it is rare for a typhoon to develop so sharply within a day. A decrease of around 40 hectopascals within 24 hours is said to be a rapid development, a phenomenon typical of powerful typhoons.
He attributes the rapid development to high sea water temperatures in areas the typhoon has travelled through. He warns that Hagibis may maintain its power as it approaches Japan, because seawater around the county is warmer than average.
May 26
The Japanese government has lifted the state of emergency in the last five of the country's 47 prefectures.
(NHK)
May 26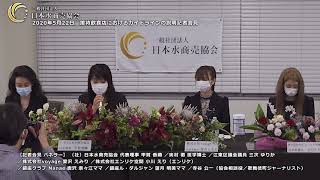 An association comprised of hostess clubs has issued guidelines for how clubs will operate once they reopen due to the lifting of the state of emergency caused by the novel coronavirus pandemic.
(tokyoreporter.com)
May 26
Tokyo Metropolitan Police arrested a man after allegedly trespassed onto the grounds of the Imperial Palace on Monday, reports Jiji Press (May 25).
(tokyoreporter.com)
May 26
A retired racehorse has escaped from a racetrack in Tokyo and was hit by a vehicle while running through a nearby intersection.
(NHK)
May 26
The government will carry out support measures to shore up demand in the travel and restaurant industries hit hard by the coronavirus pandemic, starting late July, sources said Monday.
(Japan Times)
May 26
An apparent suicide note written by Hana Kimura, the 22-year-old professional wrestler and cast member of the internationally popular Netflix reality show "Terrace House," was found at her Tokyo home in the wake of her death, investigative sources said Monday.
(Japan Times)
May 26
Japan's professional baseball teams will start the 2020 season on June 19 after a three-month delay due to the coronavirus outbreak.
(NHK)
May 26
One of Japan's major airlines plans to make the wearing of face masks compulsory as the industry shifts toward operating in a new coronavirus pandemic normal.
(Japan Times)
May 26
The number of foreign tourists staying at hotels in the normally thronging tourist destination of Kyoto plunged 89.5 percent in March from a year earlier amid the coronavirus pandemic, according to a recent survey.
(Japan Times)
May 26
Tokyo Metropolitan Police have arrested a 25-year-old male company employee for allegedly trespassing onto the premises of a female neighbor in Machida City, reports TV Asahi (May 25).
(tokyoreporter.com)
---