Tennis star Naomi Osaka says she aims to play for the host country of the 2020 Tokyo Olympics by choosing Japanese nationality.
Osaka, the world's No.3-ranked women's player, told NHK in Tokyo on Thursday that she's already begun the procedure to choose Japanese citizenship.
Born to a Japanese mother and a father from Haiti, Osaka has nationality in Japan and the US. On October 16 she'll be 22, the age at which Japanese law obliges dual-nationality citizens to choose one.
Osaka said playing for Japan will definitely be very special, and one of the most memorable things to ever happen to her. She added that she expects to feel emotional playing for the country.
She also said she does better in very high-stakes moments, so she has high expectations for herself in the Tokyo Olympics. She said she's anxious because everyone wants her to do well, but hopes to play well and win a gold medal.
Osaka was once ranked No.1 in the world. She won a tournament in Beijing this month, for her third championship this season.
The Japan Tennis Association says Osaka will be eligible to represent Japan in the Olympics if she plays for the country in one more national team competition organized by the International Tennis Federation.
Oct 14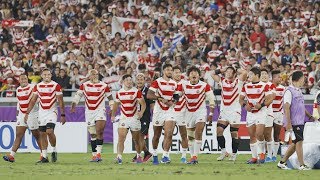 Japan captain Michael Leitch said Sunday's historic win over Scotland at the Rugby World Cup was the Brave Blossoms' way of helping the nation in the aftermath of Typhoon Hagibis and thanking those that helped put the game on.
(Kyodo)
Oct 13
In Rugby World Cup action, the final eight teams advancing to the knockout stage have been decided.
(NHK)
Oct 12
World Rugby slammed Scotland over a "disappointing" threat of legal action on Friday as tempers flared over fears their pivotal game with World Cup hosts Japan will be cancelled because of a typhoon.
(Japan Times)
Oct 11
Rugby World Cup organizers announced Thursday that two crucial pool games scheduled to take place on Saturday have been canceled to avoid the impact of a massive super typhoon set to hit the country.
(Japan Times)
Oct 11
Tennis star Naomi Osaka says she aims to play for the host country of the 2020 Tokyo Olympics by choosing Japanese nationality.
(NHK)
Oct 07
Japan's Naomi Osaka came from a set down to beat French Open champion and world No. 1 Ashleigh Barty on Sunday and win the China Open.
(Japan Times)
Oct 06
Kotaro Matsushima scored a bonus-point try deep into injury time as Japan moved to the brink of their first Rugby World Cup quarterfinal with a 38-19 Pool A victory over Samoa at the City of Toyota Stadium on Saturday.
(Japan Today)
Oct 04
The gambling laws in Japan are not the easiest to work out and understand. The big point is that no legal casinos exist in the country, although that doesn't stop other forms of gambling from existing as a stand alone service.
(newsonjapan.com)
Oct 02
Yomiuri Giants captain Hayato Sakamoto was among the 28 players named Tuesday to the Japan national team for the upcoming Premier12, an international baseball event that doubles as a qualifier for the 2020 Tokyo Olympics.
(Japan Times)
Sep 30
World Cup organizers have briefed both France and the United States on "contingency options" for their Pool C match in Fukuoka on Wednesday if the game is affected by Typhoon Mitag, which is developing off the south-west coast of Japan.
(Japan Today)
---