Typhoon Hagibis has caused death and destruction across Japan. Three people have died, one other was found without vital signs, 17 people remain missing, and more than 90 people were injured.
In Nagano Prefecture, three cars were washed away by flood waters near the Chikuma River. Three people have been rescued but three others remain missing.
The Tama River, which flows through Tokyo, has overflowed. Some buildings, including a hospital, were flooded as a result.
The local fire department dispatched a rescue team to confirm if there is anyone who failed to escape. So far, one man has been found dead.
In Fukushima Prefecture, fire department officials in Nihonmatsu city say two people went missing after a landslide destroyed a house.
Two people are also missing in Shirakawa city after their cars were submerged.
A city official from Tomioka in Gunma Prefecture says two houses collapsed in a landslide. One man was rescued but later died.
Rescue efforts are underway to find two other people who remain missing.
In Chiba Prefecture, a barrage of violent gusts of wind caused extensive damage to some homes.
A 50-year-old man was found in an overturned car and later died. Police are looking into whether strong winds caused the accident.
In the Tokyo metropolitan area, more than 300,000 homes are still without power.
May 26
The Japanese government has lifted the state of emergency in the last five of the country's 47 prefectures.
(NHK)
May 26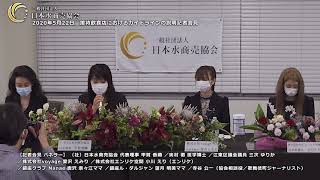 An association comprised of hostess clubs has issued guidelines for how clubs will operate once they reopen due to the lifting of the state of emergency caused by the novel coronavirus pandemic.
(tokyoreporter.com)
May 26
Tokyo Metropolitan Police arrested a man after allegedly trespassed onto the grounds of the Imperial Palace on Monday, reports Jiji Press (May 25).
(tokyoreporter.com)
May 26
A retired racehorse has escaped from a racetrack in Tokyo and was hit by a vehicle while running through a nearby intersection.
(NHK)
May 26
The government will carry out support measures to shore up demand in the travel and restaurant industries hit hard by the coronavirus pandemic, starting late July, sources said Monday.
(Japan Times)
May 26
An apparent suicide note written by Hana Kimura, the 22-year-old professional wrestler and cast member of the internationally popular Netflix reality show "Terrace House," was found at her Tokyo home in the wake of her death, investigative sources said Monday.
(Japan Times)
May 26
Japan's professional baseball teams will start the 2020 season on June 19 after a three-month delay due to the coronavirus outbreak.
(NHK)
May 26
One of Japan's major airlines plans to make the wearing of face masks compulsory as the industry shifts toward operating in a new coronavirus pandemic normal.
(Japan Times)
May 26
The number of foreign tourists staying at hotels in the normally thronging tourist destination of Kyoto plunged 89.5 percent in March from a year earlier amid the coronavirus pandemic, according to a recent survey.
(Japan Times)
May 26
Tokyo Metropolitan Police have arrested a 25-year-old male company employee for allegedly trespassing onto the premises of a female neighbor in Machida City, reports TV Asahi (May 25).
(tokyoreporter.com)
---