Fukuoka Prefectural Police have arrested a staff member at a kindergarten in Munakata City over the alleged abuse of a male pupil earlier this year, reports Kyodo News (Oct. 21).
At some point between around 8:30 a.m. and 11:00 a.m on June 26, Kozue Kiyohara, the assistant principal at Hinosatonishi, allegedly slapped the boy, 6, in the face during a gymnastics class.
"Since he was crying, I just touched his cheeks with both hands as a means of encouragement," Kiyohara was quoted in denying the allegations.
Kozue Kiyohara (Twitter)
On the evening of the incident, the mother of the boy noticed he was injured when she picked him up. When she asked Kiyohara, the suspect said that "he might have bumped into something."
While the boy was receiving a medical examination at a hospital, he suggested that he had been slapped. A hospital staff member then alerted police.
Other incidents
On Monday, the government of Munakata City revealed that parents had reported a total of 11 incidents of violence due to Kiyohara over the past three years. Since Kiyohara became assistant principal in 2011, more than 60 childcare workers have resigned from their posts.
In another case from this year, another guardian claimed that that Kiyohara injured the mouth of their child by pressing down and holding their face. At that time, the city and prefectural governments issued a warning to Hinosatonishi.
福岡県宗像市にある保育園の副園長の女が園児の顔をたたいてけがをさせたとして、逮捕されました。女は他の園児にもトイレの前で食事をさせるなどしていた疑いが浮上しています。  警察によりますと、宗像市にある保育園の副園長・清原こづえ容疑者(40)は今年6月、担当クラスで体操の指導中に男の子(6)の顔をたたいて顔面打撲のけがをさせたとして逮捕されました。「励ますために両手で頬に触れただけ」などと容疑を否認しています。  保護者:「上の子は気に入らないからって、トイレの前に机を出されて食事させられたりとか。階段があるんですが、蹴られて転げ落ちたりとか」  この男性は、園に通う自分の息子も清原容疑者から被害を受けたと話しています。  保護者:「副園長(清原容疑者)がほとんど暴力的なことをやっていた。気に入らない子どもに給食のみそ汁を掛けたりとか。日常茶飯事みたいで、良い評判は一つもないです」  この保育園では2011年に清原容疑者が副園長になって以降、保育士が60人以上退職していることが分かっていて、警察は園の運営状況などについても詳しく調べる方針です。
Dec 12
A recent online survey has found that 1 in 10 in Japan identify as LGBT or another sexual minority.
(Japan Times)
Dec 10
In Japan these days it seems that conservatives want to change things and progressives want to cling to the status quo. An apparently minor, but highly symbolic, example is Prime Minister Shinzo Abe's government's proposal to change the order of Japanese names when written in the Latin or Western alphabet.
(Nikkei)
Dec 09
Jikei Hospital in the city of Kumamoto, known for its "Konotori no Yurikago" (storks' cradle) baby hatch, will start a program allowing women to give birth while keeping their names secret, a senior official has said.
(Japan Times)
Dec 07
SoftBank Corp. and the University of Tokyo have agreed to open artificial-intelligence centers staffed with specialists from the university and around the world, to swiftly turn research into profitable business ventures so Japan can keep up with the U.S. and China.
(Japan Times)
Dec 07
Typical cheerleading clubs in schools, known as ōendan, consist of men clad in black gakuran stand-up collar uniforms yelling vigorously and performing synchronized, dynamic choreographed moves to support sports teams.
(Japan Times)
Dec 04
A welfare ministry panel said Tuesday that forcing children to sit extensively in the formal Japanese style known as seiza will be recognized as a morally unacceptable form of punishment under a new law that will enter into force next April.
(Japan Today)
Dec 04
Japanese students ranked at their lowest level ever in reading while remaining in the top band in science and mathematics in a triennial international survey on academic ability, the OECD said Tuesday.
(Japan Times)
Dec 03
A group of university students is calling for the elimination of sexual harassment by recruiters and other company workers during their job-hunting activities.
(Japan Times)
Dec 02
Stronger penalties for drivers using mobile phones behind the wheel took effect in Japan on Sunday in the wake of an outcry from families who lost loved ones in traffic accidents caused by such drivers.
(Japan Today)
Dec 02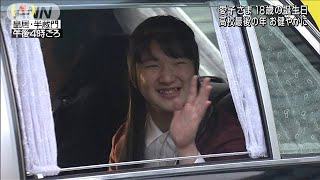 Princess Aiko, the only child of Emperor Naruhito and Empress Masako, turned 18 on Sunday, enjoying her last year in high school as she prepares to move on for further studies at university starting next spring.
(Kyodo)
---