In Japan, there's a common understanding that public places are spaces are to be respected, which is the reason why people talk quietly on public transport, hold back on eating while walking, and stand patiently in orderly queues.
It's also the reason why you won't find people performing rugby lineouts on trains and singing loudly in front of other passengers, so when a video appeared online showing a group riding bicycles through a shopping mall, people in Japan immediately saw red.
The clip shows at least six people riding their bicycles through an underground shopping mall at Osaka's Namba Station, coming dangerously close to people walking through the area on more than one occasion.
According to Nankai Electric Railway Co., who manages the station building, this isn't the first time the group has ridden bicycles through their premises, as the same thing happened in July this year.
Reports say the group is part of an Osaka-based performance team known for performing acrobatic moves on mountain bikes. Members range in age from their 20s to their 40s and they've appeared in numerous events and music videos.
Jul 13
Heavy rain has toppled an ancient cedar tree at a shrine in Gifu Prefecture, central Japan.
(NHK)
Jul 13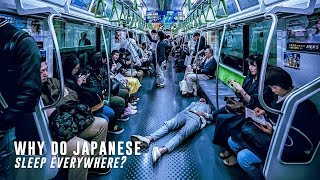 Japanese in their 20s and early 30s are going to bed earlier and sleeping about eight hours a day, 40 to 50 minutes longer than the same demographic did 10 years ago, according to a recent survey.
(Japan Times)
Jul 13
On July 4th, a rescue team carried out a helicopter operation to save a woman and a cat stranded in the floodwaters in Japan's Hitoyoshi.
(RT)
Jul 12
Residents are returning to their homes in Kuma village, in the Kumamoto prefecture of Japan, one of the regions worst hit by the recent torrential rain, to start the process of cleaning and searching for their belongings.
(RT)
Jul 11
Absolutely no tools, tape, or glue required for construction.
(soranews24.com)
Jul 10
A 24-year-old woman in custody after she caused the death of her 3-year-old daughter by leaving her alone at their residence for more than one week barricaded her inside with furniture, police have revealed, reports Fuji News Network (July 9).
(tokyoreporter.com)
Jul 09
Tokyo Metropolitan Police have arrested three persons, including a student at Joshibi College of Art and Design, over the alleged spraying of graffiti in Shibuya Ward, reports Fuji News Network (July 8).
(tokyoreporter.com)
Jul 09
A police officer fatally shot himself in Chiyoda Ward early Wednesday in an apparent suicide, police said, reports NHK (July 8).
(tokyoreporter.com)
Jul 09
Popular rapper Kan a.k.a. Gami, who is out on bail after being accused of possessing marijuana earlier this year, has been arrested again for the same crime, police said, reports Sports Nippon (July 7).
(tokyoreporter.com)
Jul 09
There is simply no denying that Japan has always been a technological leader.
(newsonjapan.com)
---