Kyoto is one of Japan's best-known tourist destinations and offers a number of choices for luxury accommodations.
But with the 2020 Tokyo Olympics less than a year away, more international and domestic operators of high-end hotels are opening properties in the ancient city as they vie for the business of well-heeled travelers from overseas.
In late October, Hyatt Hotels of the U.S. opened the Park Hyatt Kyoto in the popular tourist district of Higashiyama. Located on the grounds of Kyoyamato, a pricey Japanese restaurant near Kiyomizu and Kodaiji temples, the hotel hopes to attract wealthy foreign guests eager to learn about the city's history and culture.
Prices at the 70-room property start at 110,000 yen ($1,006) a night. There are nine suites overlooking Higashiyama. David Udell, head of Hyatt Hotels' Asia-Pacific business, said the chain spent more than 10 years looking for the ideal location.
On Nov. 1, Singapore's Aman Resorts Group opened its third hotel in Japan near Kinkakuji Temple. It features low-rise guest wings, a restaurant and a spa, set in 24,000 sq. meters of woodland.
In addition to 24 guest rooms, there are two stand-alone pavilions. Rooms start at 110,000 yen a night. The top-end pavilion, which measures more than 240 sq. meters, goes for 800,000 yen or more a night.
The Westin Miyako Kyoto, near Nanzenji Temple, has been renovated and will reopen next spring. The hotel, which is operated by Kintetsu Miyako Hotels, has halved the number of rooms to make each unit bigger. The top rate for a suite is 850,000 yen a night.
Japanese hotel operators are also piling into Kyoto's luxury accommodations market. Property developer Mitsui Fudosan will open Hotel the Mitsui Kyoto next summer. The 161-room property is located in front of Nijo Castle, a World Heritage site. It will have a hot spring and a garden that was part of the former residence of the Mitsui family, which ran one of Japan's biggest prewar conglomerates. Rooms range in size from 43 to 214 sq. meters.
Kyoto has seen a sharp rise in the number of hotel rooms as it pulls in more overseas visitors. As of the end of September, there were 648 inns and hotels in the city, up around 100 from five years ago. But industry watchers say that most of the growth has been in the lower and middle ranges of the market, and that luxury hotels and facilities are still in short supply.
As the competition heats up, some hotel chains are trying to use the city's rich cultural heritage to their advantage.
Imperial Hotel plans open accommodations in the city's Gion geisha district by renovating Yasaka Hall, a tangible cultural property located in the Gion Kobu Kaburenjo Theater. The theater is a venue for the "Miyakoodori," an annual event where geishas unveil new dance performances. The hotel, which is to open in a few years, is expected to have about 100 guest rooms.
Aug 11
SoftBank Group on Tuesday reported a net profit of 1.25 trillion yen ($11.8 billion) in the April-June quarter thanks to the merger and sale of its stake in U.S. mobile carrier Sprint, marking a return to profit after suffering its worst ever loss in the previous quarter.
(Nikkei)
Aug 10
Despite uncertainties from COVID-19, top Japanese corporations plan to invest 15.8% more in information technology in fiscal 2020 to keep up the wave of digitization across industries.
(Nikkei)
Aug 10
Colorful kimono are synonymous with Tokyo summer celebrations but anti-coronavirus measures have put social gatherings off-limits and led struggling department stores to push the traditional Japanese outfits as a way to make a virtual fashion statement.
(Japan Times)
Aug 07
Official figures indicate that Japanese households may be recovering from the economic impact of COVID-19. Spending was down in June, but by a much smaller margin than the month before.
(NHK)
Aug 07
Japan's powerful business lobby, the Keidanren, is dominated by energy-intensive sectors that represent less than 10 percent of the economy, resulting in national policies that favour coal and hindering attempts to combat climate change, a new study said.
(aljazeera.com)
Aug 07
Toyota's profit plunged 74% in the last quarter as the coronavirus pandemic sank vehicle sales to about half of what the top Japanese automaker sold the previous year.
(krmg.com)
Aug 06
The average summer bonus at major Japanese companies this year dropped 2.17 percent from a year earlier to ¥901,147, a Japan Business Federation survey showed Wednesday.
(Japan Times)
Aug 06
Uber Technologies has begun to offer a food delivery subscription in Japan that replaces per-order fees, tapping into the growing demand from consumers holed up at home from the coronavirus.
(Nikkei)
Aug 05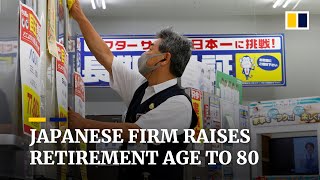 Japan's decision to offer an initial group of 87 companies subsidies totalling US$653 million to expand production at home and in Southeast Asia has sparked debate whether the world's third largest economy is trying to gradually decouple from China.
(scmp.com)
Aug 05
About 60 percent of people in the nation who developed cold-like symptoms during the first wave of the novel coronavirus pandemic, between February and May, went to work despite a request by the government for them not to do so, a recent survey has found.
(Japan Times)
---