SoftBank Corp. and the University of Tokyo have agreed to open artificial-intelligence centers staffed with specialists from the university and around the world, to swiftly turn research into profitable business ventures so Japan can keep up with the U.S. and China.
"If they are stuck with research … their funds and passions will drain away," SoftBank Group CEO Masayoshi Son said at an event announcing the joint project at the prestigious university.
"By teaming with the University of Tokyo, we want to give students a chance to learn and start a business," said Son, who has stressed the importance of AI for years.
Under the arrangement, a pair of facilities — one on the university's Hongo campus in Bunkyo Ward and the other at a planned new SoftBank office in the Takeshiba district — will be established in spring and winter of 2020 at the earliest, respectively, under the brand Beyond AI.
The Hongo base will handle basic research on the evolution of AI and potential ways to apply the technology in physics, robotics, brain science and other fields.
The results will be sent to the Takeshiba base, which will work on advanced research and establishing new businesses.
Some of the enterprises envisioned include autonomous driving and medicine. The profits made from these ventures will be invested into new research and human resources development.
Jan 23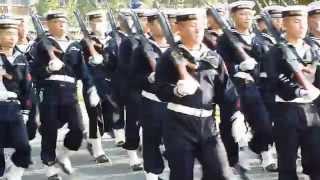 The first female student was admitted to Japan's national naval submarine academy Wednesday after the end of a ban on women on the country's submarines.
(Japan Times)
Jan 23
Japan's oldest university continues to produce the best and the worst that the country has to offer.
(soranews24.com)
Jan 22
The Japanese government has decided it will not to give subsidies this fiscal year ending March to a university where a large number of foreign students have gone missing.
(NHK)
Jan 21
Online streaming has been very good for the anime industry, opening flows of revenue both domestic and international by delivering the product to ravenous fans in the fastest manner possible. For a while, though, it looked like Studio Ghibli was going to stick to its "physical media-only" policy until the end of time.
(soranews24.com)
Jan 18
An international group of geologists on Friday formally adopted "Chibanian" as the name of a geologic age spanning 770,000 to 126,000 years ago, researchers said, marking the first time a Japanese name has been chosen.
(Japan Times)
Jan 18
With Japanese society often placing intense pressure on teens and adults alike, as well as traditional values that can frame self-sacrifice as an admirable way of taking responsibility, a high suicide rate has long been a dark mark on the nation's culture.
(soranews24.com)
Jan 15
The communications ministry on Tuesday authorized Japanese public broadcaster NHK to start simultaneous online streaming of its television programs from April.
(Japan Today)
Jan 14
Aichi Prefectural Police last week arrested a student at Meijo University in Nagoya over the alleged stabbing of a teacher, reports NHK (Jan. 10).
(tokyoreporter.com)
Jan 13
Young men and women in northeastern Japan have talked about their hopes for rebuilding towns that were devastated by the 2011 earthquake and tsunami.
(NHK)
Jan 13
At first glance, things seem to be getting better for Japanese women.
(Japan Times)
---