At the end of 1989, with Japan's bubble economy blindly approaching the cliff's edge, Japanese companies made up about half the world's 100 most valuable corporations.
Now the country's only representative on that list is Toyota Motor.
The biggest factor behind Japanese companies' lackluster market performance is corporate chiefs' inability to make tough calls and focus resources on strategically important businesses. They are falling behind even as technological innovations and strategic acquisitions drive brisk corporate expansions across the world.
The remarkable rise of Procter & Gamble's market value compared with such Japanese companies as Fast Retailing and Rakuten serves as a prime example.
The American multinational consumer goods company has sold off its Pringles potato chip and Duracell battery brands and instead focused on laundry detergent, skin care and eight other core businesses over the past 20 years. Shareholders rewarded the company by lifting its value to $300 billion from $100 billion in that time.
On the other hand, the operator of the Uniqlo casual clothing brand has not been able to hit $70 billion, and Rakuten, Japan's leading e-commerce company, has lost steam after reaching $20 billion.
Similarly, the market value of Kao, a major Japanese consumer goods maker, has doubled, but just to $39 billion during the same period.
The Tokyo Stock Exchange is planning an overhaul of its market categories to bring back investors. It aims to create a "prime" market for selected blue chips, a category reserved for companies with strong investor appeal.
The move would remake TSE's swollen first section into a board for elite companies that can power the market's advance.
But such superficial changes may not be enough to lure back capital.
Aug 11
SoftBank Group on Tuesday reported a net profit of 1.25 trillion yen ($11.8 billion) in the April-June quarter thanks to the merger and sale of its stake in U.S. mobile carrier Sprint, marking a return to profit after suffering its worst ever loss in the previous quarter.
(Nikkei)
Aug 10
Despite uncertainties from COVID-19, top Japanese corporations plan to invest 15.8% more in information technology in fiscal 2020 to keep up the wave of digitization across industries.
(Nikkei)
Aug 10
Colorful kimono are synonymous with Tokyo summer celebrations but anti-coronavirus measures have put social gatherings off-limits and led struggling department stores to push the traditional Japanese outfits as a way to make a virtual fashion statement.
(Japan Times)
Aug 07
Official figures indicate that Japanese households may be recovering from the economic impact of COVID-19. Spending was down in June, but by a much smaller margin than the month before.
(NHK)
Aug 07
Japan's powerful business lobby, the Keidanren, is dominated by energy-intensive sectors that represent less than 10 percent of the economy, resulting in national policies that favour coal and hindering attempts to combat climate change, a new study said.
(aljazeera.com)
Aug 07
Toyota's profit plunged 74% in the last quarter as the coronavirus pandemic sank vehicle sales to about half of what the top Japanese automaker sold the previous year.
(krmg.com)
Aug 06
The average summer bonus at major Japanese companies this year dropped 2.17 percent from a year earlier to ¥901,147, a Japan Business Federation survey showed Wednesday.
(Japan Times)
Aug 06
Uber Technologies has begun to offer a food delivery subscription in Japan that replaces per-order fees, tapping into the growing demand from consumers holed up at home from the coronavirus.
(Nikkei)
Aug 05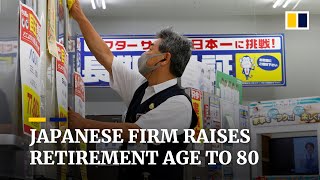 Japan's decision to offer an initial group of 87 companies subsidies totalling US$653 million to expand production at home and in Southeast Asia has sparked debate whether the world's third largest economy is trying to gradually decouple from China.
(scmp.com)
Aug 05
About 60 percent of people in the nation who developed cold-like symptoms during the first wave of the novel coronavirus pandemic, between February and May, went to work despite a request by the government for them not to do so, a recent survey has found.
(Japan Times)
---