Japan logs 554 daily COVID-19 cases, new high since Omicron spread
新型コロナ 2日の全国感染者数は554人
Japan confirmed 554 daily coronavirus cases Sunday, a new high since the Omicron variant was first detected in late November, amid a steady increase of infections involving the highly transmissible strain in the midst of the country's New Year holidays.
The figure was up from 534 reported the previous day, with the cumulative total of Omicron infections rising to 695 as of 9 p.m. Saturday from 637 a day earlier, according to a Kyodo News tally and data from the Ministry of Health, Labor and Welfare.
Jan 03 (ANNnewsCH) - ANNのまとめでは、国内で2日に新たに確認された新型コロナウイルスの感染者は554人でした。
---
Ranks of Japan's once-feared 'yakuza' shrink as new laws, weak economy hit home
taiwannews.com.tw - Aug 16
In a letter circulated last month to the heads of all the other "yakuza" underworld groups in Tokyo, the leadership of the Anegasaki-kai announced that it was voluntarily disbanding and thus no longer a part of Japan's notorious crime syndicate.
---
These asteroid particles may be our most 'pristine' sample of the outer solar system
sciencealert.com - Aug 16
Rubble retrieved from an asteroid in near-Earth solar orbit could be the most 'pristine' sample of cosmic rock we've had our primate paws on yet.
---
Anri Sakaguchi Announces Divorce 2 Months After Marriage Announcement
aramajapan.com - Aug 16
Former talent Anri Sakaguchi has announced through her Instagram that the divorce she filed for has been finalized.
---
Japanese nurseries' take-home dirty nappy rule perplexes parents
theguardian.com - Aug 16
Waiting lists for Japanese nurseries are finally falling, but many parents have found that securing one of the coveted places comes at a price – taking home their child's soiled nappies.
---
Japan wins Judo Junior World Championships Team Event
Judo Highlights - Aug 16
Brilliant performance by the youngsters. Tanaka Ryuga is something special.
---
Japanese residents and ministers visit controversial WWII Shrine
WION - Aug 15
In Japan, several politicians and thousands of residents visited Tokyo's controversial Yasukuni shrine on the occasion of 77th anniversary of Japan's surrender which ended the 2nd World War.
---
Japanese economy marks third consecutive quarter of growth
NHK - Aug 15
Japan's latest GDP figures show its economy grew in the April-to-June period for the third consecutive quarter.
---
Kappo Ryori: Exclusive Japanese Course Dining
Japan by Food - Aug 15
In today's video, Shizuka indulges in an intimate dining experience. Kappo dining, meaning "to cut and cook", is a style of cuisine that focuses on the connection between the chef and the diner.
---
Japanese teenager wins US Women's Amateur golf championship
NHK - Aug 15
Japanese teenager Baba Saki has won the 122nd US Women's Amateur golf championship.
---
End of $3 ramen? Inflation squeezes Japan's comfort food
Nikkei - Aug 15
Inflation has spread to one of Japan's favorite, most affordable meals: ramen.
---
Japan star Kubo gets winner on Real Sociedad debut
besoccer.com - Aug 15
Japan star Takefusa Kubo marked his Real Sociedad debut by scoring the only goal in a 1-0 win away to Cadiz in their opening game of the season in La Liga on Sunday.
---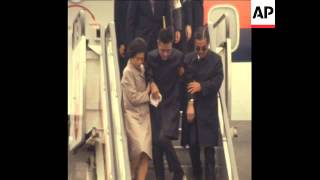 Japanese World War II holdout's audio tapes tell of harsh life in jungle
stripes.com - Aug 15
Audio recordings of Shoichi Yokoi — the former Japanese soldier who held out for 27 years in the jungles of Guam after the end of World War II — have been obtained by The Yomiuri Shimbun.
---
Society Page:
1
|
2
|
3
|
4
|
5
|
6
|
7