Japan PM announces more sanctions on Russia after attack on Ukraine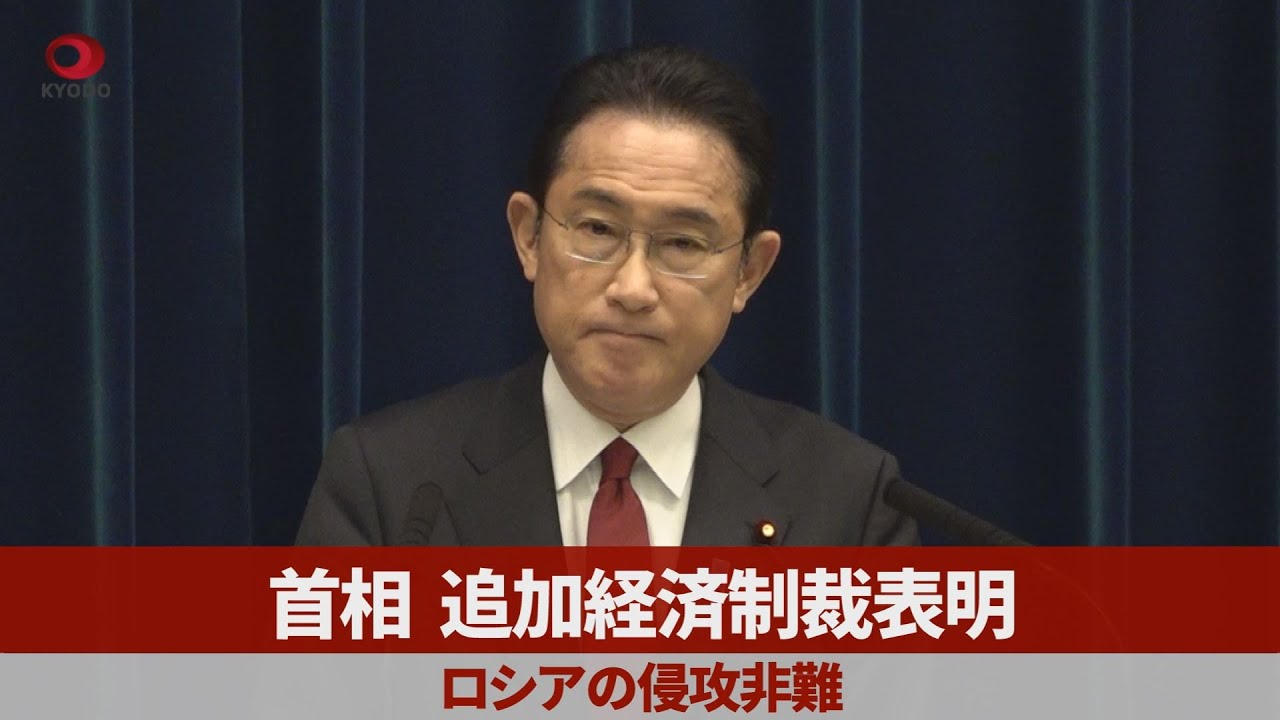 Japan will impose additional sanctions targeting Russia following its invasion of Ukraine, Prime Minister Fumio Kishida said Friday, joining the United States and Europe in piling pressure on Moscow that defied international calls for diplomacy.
Speaking at a press conference, Kishida said the new package of sanctions include export controls on semiconductors and other products, a freeze on assets held by Russian financial institutions, and a suspension of visa issuance for certain Russian individuals and entities.
---
Britain to lift import restriction on food products from Fukushima
Kyodo - Jun 28
Britain on Wednesday will lift import restrictions on some Japanese food products imposed in the wake of the 2011 Fukushima nuclear disaster, Prime Minister Boris Johnson said Tuesday during his meeting with Japanese Prime Minister Fumio Kishida.
---
Kishida calls for G7 unity to tackle soaring prices
NHK - Jun 27
Japanese Prime Minister Kishida Fumio has said the Group of Seven nations should further strengthen their unity to protect the lives of people affected by soaring prices amid Russia's invasion of Ukraine.
---
Kishida announces additional sanctions on Russia
NHK - Jun 27
Japanese Prime Minister Kishida Fumio has announced additional sanctions against Russia, including a ban on imports of Russian gold.
---
Japan PM Kishida hopes to show G-7 unity amid Ukraine war, inflation
Kyodo - Jun 26
Japanese Prime Minister Fumio Kishida said Saturday he will seek to confirm unity with his fellow Group of Seven leaders in responding to Russia's war against Ukraine, inflation and other global challenges.
---
City in western Japan loses memory stick with data on 460,000 residents
NHK - Jun 23
The city of Amagasaki in Hyogo Prefecture, western Japan, has lost a USB device containing the personal information of more than 460,000 residents.
---
Woman in Belgium becomes mayor in Japan
UNI - Jun 22
A Japanese woman living in Belgium has become the mayor of Suginami, a district in Tokyo after she gained prominence through her online campaigning during the pandemic.
---
Kishida critics seize on weak yen in Japan upper house election
Al Jazeera - Jun 22
Campaigning for Japan's upper house election kicked off with Prime Minister Fumio Kishida fighting off criticism of the ultra-loose monetary policy he continues to support despite worries that it's accelerating price increases.
---
Kishida discloses ambitious inflation-fighting package
NHK - Jun 21
Japan's Prime Minister Kishida Fumio has said he is planning to roll out a package of measures to fight inflation.
---
Japan govt. says economy recovering, warns of rising costs
NHK - Jun 20
The Japanese government has kept its overall assessment of the economy unchanged for the third straight month. Officials say there are signs of an upturn, but called for caution against rising raw material prices amid the prolonged conflict in Ukraine.
---
Lower house speaker Hosoda sues publisher over sexual scandal
Japan Today - Jun 19
Japan's House of Representatives Speaker Hiroyuki Hosoda on Friday filed a damages suit against the publisher of a popular weekly magazine that recently ran reports about his alleged sexual harassment of female reporters, according to his lawyer.
---
Japan's top court rules state not liable for Fukushima disaster
Nikkei - Jun 17
Japan's top court on Friday dismissed claims that the government should pay damages in cases involving around 3,700 people whose lives were seriously affected by the 2011 Fukushima nuclear disaster, absolving the state of responsibility for mass evacuations in the crisis.
---
Australia and Japan to boost defence exercise
Sky News Australia - Jun 17
Australia and Japan have agreed to elevate defence cooperation between the two nations during in a meeting between the Defence Minister Richard Marles and his Japanese counterpart in Tokyo.
---
Society Page:
1
|
2
|
3
|
4
|
5
|
6
|
7