US vs Japan 7-Eleven | Food Wars
From calorie count to portion sizes, we wanted to find out all the differences between 7-Eleven in the US and Japan. This is Food Wars.
---
Japanese Kura Sushi Guide! Conveyor belt Sushi Restaurant
SAMURAI JUNJIRO Channel - Jun 21
Japanese Food guide to Kura Sushi, a conveyor belt sushi restaurant.
---
Must-Eat Japanese Convenience Store Food this Summer Top 10
Paolo fromTOKYO - Jun 19
My favorite Japanese store convenience store food for summer 2022 in Tokyo. As many tourists are running back to Japan, I wanted to share with you some of my must-eat Japanese food and Japanese snacks at Japan conbini stores 7-11, Family Mart and Lawson.
---
Lazy Saturday Brunch | Failed! Souffle Pancakes + Gardening
Kimono Mom - Jun 19
We tried to make Japanese souffle pancakes for brunch, but failed????(I think it's because the meringue bubbles have deflated.) Then we squeezed lemons????, made juice, and enjoyed a lazy Saturday morning. And Sutan is introducing the plants on our terrace!
---
Walnuts to be added to allergen labels in Japan after allergy cases surge
Japan Times - Jun 14
The number of walnut allergy cases in Japan has jumped over tenfold in nine years, a survey by the Consumer Affairs Agency has revealed.
---
Shinjuku Food Guide: What to Eat in Omoide Yokocho and Golden Gai
Japan by Food - Jun 13
A trip to Tokyo isn't complete without a walk through Shinjuku, the city's bustling center. Home to the busiest train station in the world, the twists and turns of Shinjuku's back alleys can be disorienting and overwhelming, but they also contain a treasure trove of hidden gems.
---
Chicken Katsu Curry | Japanese food home cooking | Recipe
Kimono Mom - Jun 04
Today, we made Chicken Katsu Curry, Japanese curry with deep-fried chicken cutlet!
---
ラーメン、世界へ進出 - なぜ?
newsonjapan.com - May 31
現代日本食文化の特徴として、世界中のあらゆる食文化をうまくクリエイティブに編集し、創作して日本化するという芸当が日本文化にはあります。そんな日本食文化の変体メニューが先日も発表されました。
---
Toyosu market to resume public viewings of tuna auction
NHK - May 31
Tokyo's largest food market is resuming public viewings of its famed tuna auction from Thursday after a five-month hiatus.
---
Kingdom of Raw Tuna: Japanese Fishing Village Nachikatsuura
Japan by Food - May 30
Shizuka wraps up her trip in Wakayama by sampling one of the prefecture's most well-known foods- freshly caught tuna! The town of Nachikatsuura in Wakayama prefecture is famous for its active fishing industry, bring in tons of fresh tuna every day.
---
Japanese Lawson Convenience Store Food Swap
Tokyo Creative - May 29
It's time for another convenience store meal swap with Emma and Chris! We got lots of different Japanese snacks, some good... some bad...
---
Kitsune Udon | Fried Tofu | Japanese food recipe
Kimono Mom - May 28
Today, we made Kitsune Udon, Deep fried tofu on Udon noodles! It's delicious and easy to make!
---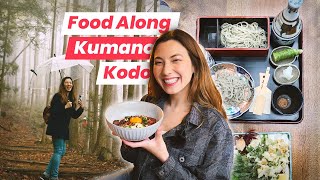 In Search of the Best Food on Kumano Kodo Pilgrimage Trail
Japan by Food - May 23
Take a hike with Shizuka through Wakayama's ancient pilgrimage trail, the Kumano Kodo. Through the misty mountains and ancient trees, Shizuka explores the hidden restaurants along the way.
---
Food Page:
1
|
2
|
3