Japan launches trial to reopen for foreign tourists
外国人観光客入国再開へ 観光庁が実証ツアーを開始
Japan has launched a trial to allow a limited number of foreign tourists into the country.
The government is considering accepting foreign tourists in stages from June or later, as the coronavirus infection situation is improving.
On Tuesday, the first group of participants arrived at Narita Airport.
The seven employees from US travel agencies are scheduled to tour eastern and northeastern Japan for about a week, together with Japanese tour guides.
A woman who runs a travel agency in Hawaii said she is checking anti-infection measures in Japan. She said she hopes to bring customers next time.
Through the trial, Japanese officials hope to find effective ways to get tourists to follow Japan's basic anti-infection measures, such as checking temperatures, washing hands and wearing masks.
Tourism minister Saito Tetsuo said the start of the test would be a turning point for the country's tourist industry.
A total of about 50 people from the United States, Australia, Thailand and Singapore will take part in the trial tours this month to visit tourist spots in 12 prefectures. The participants are required to have received their third vaccine shots.
The tourism test will help Japanese officials decide when the country can start fully accepting foreign tourists again.
外国人観光客の入国再開に向け、観光庁が行う少人数の実証ツアーが始まりました。  実証ツアーはアメリカやオーストラリアなど4カ国からの参加者が12の県を訪問します。 -
ANNnewsCH
---
Sustained rains in Japan leave damage, landslide risks
Kyodo - Aug 06
Torrential rains have continued to fall across a wide part of Japan on Friday, with record downpours reported in Fukui and Shiga prefectures as rivers have overflowed and many areas are left at increased risk of landslides.
---
Heavy rain lashes Sea of Japan coast
NHK - Aug 05
Officials are warning of more rain on Friday after record rainfall hit parts of the Japanese region of Hokuriku and Niigata and Yamagata Prefectures from Wednesday through Thursday, causing flooding and landslides. They are urging vigilance over landslides and flooding in low-lying areas.
---
JAL system makes air travel easier and lets you keep laptops, liquids in bag for security check
soranews24.com - Aug 05
Passengers can keep computers and liquids inside their carry-on until they actually want to use them, thanks to new system.
---
Revitalization of Japanese tourism to Hawaii slower than expected
kitv.com - Aug 04
The highly anticipated return of Japanese travelers to Hawaii was expected to dramatically increase with foreign border restrictions loosening back in June 2022.
---
Heavy rain causes wide damage in north, central Japan
NHK - Aug 04
Japan's Meteorological Agency has issued an emergency heavy rain warning for Niigata Prefecture, next to Yamagata Prefecture, where the same warning was issued on Wednesday night. It's a level 5 alert, the highest on the emergency scale.
---
Kanto lighting up the night sky for the first time in three years
時事通信トレンドニュース - Aug 04
"Kanto Festival" is being held in Akita City for the first time in three years.
---
JAPANESE FESTIVALS are CRAZY (it was too hot!) *street food, dancing, and games*
ちゅーそんちゃんねるChuson Channel - Aug 04
We are going to Tokyo SkyTree for a festival.
---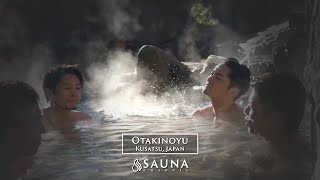 Ohtaki No Yu - Kusatsu, Japan
Sauna Channel - Aug 04
Time to relax in one of Kusatsu's natural hot spring baths, commonly known as onsen, with Sho Ikushima at Ohtaki No Yu.
---
Heatwave continues to grip western, eastern Japan
NHK - Aug 03
The ongoing heatwave is gripping wide areas of western through eastern Japan on Wednesday, with the mercury reaching 39 degrees Celsius in some cities near Tokyo. Officials are urging people to take full precautions against heatstroke.
---
Japan swelters as temperatures climb over 30 C
Japan Today - Aug 02
Temperatures rose across Japan on Tuesday, topping 30 C from the morning in 380 locations, with the weather agency warning of heat-related illnesses.
---
Mercury tops 39 degrees in Obama City on Sea of Japan
NHK - Aug 01
Scorching heat prevailed again on Monday over wider Japan, with temperatures soaring above 39 degrees Celsius in Obama City on the Sea of Japan coast.
---
Japan is open to travel. So why aren't tourists coming back?
CNN - Aug 01
Summer 2022 has been dominated by stories about travel mishaps, overcrowding at major destinations and airports and life-threatening heat waves in Europe. Yet in Asia, where many countries are reopening in a more gradual fashion -- with fewer flight cancellations or horror stories about lost luggage -- tourists have been slow to come back.
---
Travel Page:
1
|
2
|
3
|
4
|
5
|
6
|
7