Mother arrested over death of 3-year-old daughter whose legs were broken
逮捕の母親「しつけのため」 骨折した3歳娘を放置か
Police in Kasukabe City, Saitama Prefecture, have charged a 31-year-old unemployed woman with parental neglect resulting in the death of her three-year-old daughter.
According to police, Nana Nagano neglected to get medical attention for her daughter Saki who suffered fractures to both her legs after being abused in December 2021, Kyodo News reported. Nagano is also accused of hitting Saki's face on Dec 23.
Saki was taken to hospital on Dec 29 when she died due to a brain injury. Doctors notified a child welfare center about a case of possible child abuse after finding that Saki's legs were fractured, as well as bruises on her face.
At the time, Nagano worked part-time at a karaoke parlor. Her 37-year-old boyfriend was also living with her and Saki. Police believe the abuse started when he moved in at the end of November. They allege that Nagano and her boyfriend knew that Saki's legs had been injured but refused to take her to a hospital. It wasn't until she lost consciousness on Dec 29 that they called for an ambulance. ...continue reading
Jun 01 (ANNnewsCH) - 埼玉県春日部市で骨折した3歳の娘を放置したとして送検された母親が、この娘への暴行の疑いで逮捕された際「しつけのためだった」と話していたことが分かりました。 ...
continue reading
---
Man in central Japan arrested over deaths of wife, 2 children
Kyodo - Aug 14
Police in Aichi Prefecture arrested a 42-year-old man on Saturday in connection with the murders of his wife and their two children following the discovery of their bodies earlier this week.
---
Man arrested for sticking sewing needles into buttocks of ex-girlfriend's 4-year-old son
Japan Today - Aug 12
Police in Annaka, Gunma Prefecture, have arrested a 29-year-old unemployed man on suspicion of abusing his former girlfriend's four-year-old son by sticking sewing needles into his buttocks.
---
Man questioned for possessing 'gunpowder' near U.S. Embassy in Tokyo
Japan Today - Aug 11
A man has been questioned by police for possessing a vessel containing what appeared to be homemade gunpowder near the U.S. Embassy in Tokyo earlier this week, investigative sources said Wednesday.
---
6 members of 2 unrelated families found dead in suspected murder-suicide cases
Japan Today - Aug 10
Six members of two apparently unrelated families were found dead in Aichi and Saitama prefectures on Tuesday and Wednesday, with local police investigating the deaths as suspected cases of murder and family suicide, respectively.
---
Man arrested for stalking after mailing woman GPS tracker to her old address
Japan Today - Aug 10
Police in Sagamihara, Kanagawa Prefecture, have arrested a man on suspicion of violating the anti-stalking law after he mailed his female target a GPS tracker to find her new home address.
---
Drunken police officer arrested for trespassing into company he believed was his home
Japan Today - Aug 09
Police in Osaka have arrested a 22-year-old police officer on suspicion of unlawful entry after he was trespassing in a shipping company's distribution center on Sunday.
---
Japanese sailor stabbed during remembrance ceremony in Honiara
rnz.co.nz - Aug 08
A Japanese sailor has been stabbed at Bloody Ridge in Solomon Islands during a World War II remembrance ceremony in Honiara.
---
Hiroshima marks 77th anniversary of atomic bombing
NHK - Aug 06
People in Hiroshima are marking the 77th anniversary of the atomic bombing that devastated the city in the final days of World War Two. Thousands of people gathered on Saturday morning for an annual ceremony at the city's Peace Memorial Park.
---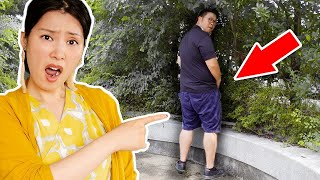 INCREDIBLY RUDE THINGS Japanese people do!
Mrs Eats - Aug 06
Japanese people are considered to be some of the politest people in the world, but they're definitely NOT as polite as you think!
---
A 550-year-old man has been found in Japan. He is still alive!
Ridddle - Aug 04
This year, the oldest man in the world has turned… no, not one hundred twenty, and not even one hundred fifty. A Japanese monk named Shinnyōkai celebrates his five hundred fiftieth birthday!
---
Lawyers decry ban on 'menacing' eyewear at Japan prison
enca.com - Aug 04
A Japanese prison that banned a convict from wearing his glasses because they made him look "menacing" has come under fire from lawyers who call the decision a rights violation.
---
Mother arrested after 2 children die of heatstroke when left in car
Japan Today - Aug 04
Police in Atsugi, Kanagawa Prefecture, have arrested a 21-year-old unemployed woman on suspicion of parental neglect resulting in death after her two-year-old daughter and one-year-old son died of heatstroke due to being left in a car.
---
Society Page:
1
|
2
|
3
|
4
|
5
|
6
|
7