Shimane Prefecture greenlights restart of nuclear reactor
島根原発2号機再稼働に同意 知事が正式表明
Shimane Prefecture in western Japan approved Thursday a plan to restart a nuclear reactor of the same type as those that suffered meltdowns at the Fukushima Daiichi plant following the 2011 massive earthquake and tsunami.
The greenlight for operating the No. 2 unit at Chugoku Electric Power Co.'s Shimane nuclear plant in the prefectural capital of Matsue was announced by Gov. Tatsuya Maruyama in a prefectural assembly session.
The company is seeking to restart the reactor in 2023 at the earliest. Inactive since 2012, it will likely be the country's first boiling water reactor to be restarted since the Fukushima disaster.
Japan has been gradually restarting idled nuclear plants. But the reactors brought back on line have been so far limited to another type -- pressurized water reactors.
Chugoku Electric cleared national safety standards in September 2021 for restarting the reactor. The utility is scheduled to complete its safety measures next February. ...continue reading
Jun 02 (ANNnewsCH) - 全国で唯一、県庁所在地にある中国電力・島根原発2号機の再稼働について、島根県の丸山知事が同意する考えを正式に表明しました。 ...
continue reading
---
1 in 3 beds meant for the critically ill fail to live up to expectations
Nikkei - Jul 03
Nearly 35% of acute care beds in Japanese hospitals have failed to serve their intended purpose, a serious misallocation of human and financial resources, according to a study by Nikkei and the Japan Center for Economic Research.
---
How Japan UPGRADED these American inventions!
Mrs Eats - Jul 02
Did you know Japan made some American inventions EVEN BETTER? You might not believe it, because USA #1, but constant improvement is part of Japanese DNA!
---
Deep-sea camera captures giant 'yokozuna iwashi' in Pacific
NHK - Jul 01
Japanese researchers say they have successfully filmed a giant rare deep-sea fish in the Pacific called the "yokozuna iwashi."
---
Fireball observed in skies over Japan
NHKn - Jun 29
People around Japan have reported seeing what appeared to be a fireball blazing across the night sky.
---
Japan eyes restart of nuclear plants offline since 2011 Fukushima disaster as temperatures soar
South China Morning Post - Jun 29
With temperatures across Japan soaring and the government imploring the public and businesses to limit their consumption of energy, Prime Minister Fumio Kishida has signalled that nuclear power plants not used since 2011's Fukushima disaster will be brought back online.
---
Observing different mating tactics in the Japanese scorpionfly
phys.org - Jun 28
Owing to the high competition and the prevalence of natural selection, many male insects must develop alternative tactics to mate with a female.
---
Quake jolts southwestern Japan, no tsunami warning issued
Nikkei - Jun 26
An earthquake with a preliminary magnitude of 5.4 shook Kumamoto Prefecture in southwestern Japan on Sunday, but no tsunami warning was issued, the Japan Meteorological Agency said.
---
How Japan uniquely recycles plastic
Paolo fromTOKYO - Jun 25
This is how Japan Recycles Plastic Trays. I'm at the Ibaraki Kanto recycling factory of Japan's largest plastic food container producer, FPCO.
---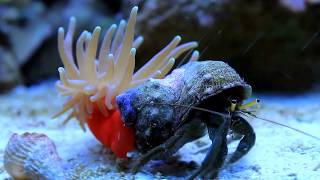 New species of symbiotic sea anemone discovered off coast of Japan
sci-news.com - Jun 24
Scientifically named Stylobates calcifer, the new sea anemone species lives in a symbiotic relationship with a species of hermit crab called Pagurodofleinia doederleini.
---
Japan govt. compiles report on possible impacts of solar flares
NHK - Jun 22
Japan's communications ministry has drawn up a report on possible impacts of large-scale eruptions on the surface of the sun called "solar flares," such as disruptions in wireless communications.
---
Hospital in western Japan hit by ransomware attack
NHK - Jun 21
Staff at a hospital in Tokushima Prefecture, western Japan, are unable to access electronic medical records after the hospital became the target of a ransomware attack.
---
Drone registration system begins in Japan
NHK - Jun 20
Drone owners in Japan are obliged to register their craft with the government under a revised aviation law that took effect on Monday.
---
Sci-Tech Page:
1
|
2
|
3
|
4
|
5
|
6
|
7