Hayabusa2 brought back substances considered important for living things
「宇宙の砂から生命の源"アミノ酸"」ほか4選
More than 20 types of amino acids have been detected in samples Japan's Hayabusa2 space probe brought to Earth from an asteroid in late 2020, an official said Monday.
The acids discovered are very important substances for living things and could hold clues to understanding the origins of life, the education ministry official said.
In December 2020, a capsule that had been carried on a six-year mission by Hayabusa2 delivered more than 5.4 grams of surface material to Earth from the Ryugu asteroid, located over 300 million kilometers away.
The probe of Ryugu was aimed at unraveling the mysteries of the origin of the solar system and life. Previous analysis of the samples had suggested the presence of water and organic matter.
The full-fledged investigation of the sample was launched in 2021 by the Japan Aerospace Exploration Agency and research institutions nationwide including the University of Tokyo and Hiroshima University.
Amino acids are substances that make proteins and are indispensable for life. ...continue reading
---
Quake jolts southwestern Japan, no tsunami warning issued
Nikkei - Jun 26
An earthquake with a preliminary magnitude of 5.4 shook Kumamoto Prefecture in southwestern Japan on Sunday, but no tsunami warning was issued, the Japan Meteorological Agency said.
---
How Japan uniquely recycles plastic
Paolo fromTOKYO - Jun 25
This is how Japan Recycles Plastic Trays. I'm at the Ibaraki Kanto recycling factory of Japan's largest plastic food container producer, FPCO.
---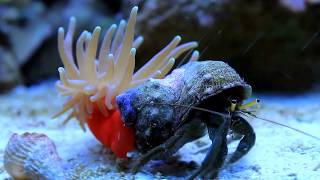 New species of symbiotic sea anemone discovered off coast of Japan
sci-news.com - Jun 24
Scientifically named Stylobates calcifer, the new sea anemone species lives in a symbiotic relationship with a species of hermit crab called Pagurodofleinia doederleini.
---
Japan govt. compiles report on possible impacts of solar flares
NHK - Jun 22
Japan's communications ministry has drawn up a report on possible impacts of large-scale eruptions on the surface of the sun called "solar flares," such as disruptions in wireless communications.
---
Hospital in western Japan hit by ransomware attack
NHK - Jun 21
Staff at a hospital in Tokushima Prefecture, western Japan, are unable to access electronic medical records after the hospital became the target of a ransomware attack.
---
Drone registration system begins in Japan
NHK - Jun 20
Drone owners in Japan are obliged to register their craft with the government under a revised aviation law that took effect on Monday.
---
Japan Just Released Fully Functioning Female Robots #6
Artificial Intelligence News - Jun 20
Japan just released fully functioning female robots. For many years, Japan has been at the forefront of robotics technology, and its robotics innovation has astounded the rest of the globe.
---
Another strong quake hits Ishikawa Prefecture
NHK - Jun 20
A strong earthquake has hit the Noto region in central Japan. No tsunami alert has been issued.
---
Japan agency warns of quake of similar intensity in coming week
NHK - Jun 20
The Japan Meteorological Agency is warning that another powerful earthquake could hit the Noto region on the Sea of Japan in the coming week.
---
Japan Police preparing for possible Mount Fuji eruption
arabnews.jp - Jun 19
Japan's National Police Agency has started making full-fledged preparations for a possible eruption of Mount Fuji, the tallest peak in the country.
---
Sounds of Tokyo train station visualized in trial for deaf travelers
Kyodo - Jun 15
A train station in Tokyo on Wednesday started reproducing platform announcements and the sounds of train arrivals and departures onto a screen in the form of text and sign language to help the hearing impaired on their journeys.
---
Internet Explorer shutdown to cause Japan headaches 'for months'
Nikkei - Jun 15
Microsoft bids farewell to Internet Explorer on Thursday, stirring a sense of panic among many businesses and government agencies in Japan that waited to update their websites until the last minute.
---
Sci-Tech Page:
1
|
2
|
3
|
4
|
5
|
6
|
7