Yakuza: 10 Best References To The Real World In The Series
Sometimes, Yakuza can feel too real. That's not a coincidence, with plenty of real-world references dotted about the series.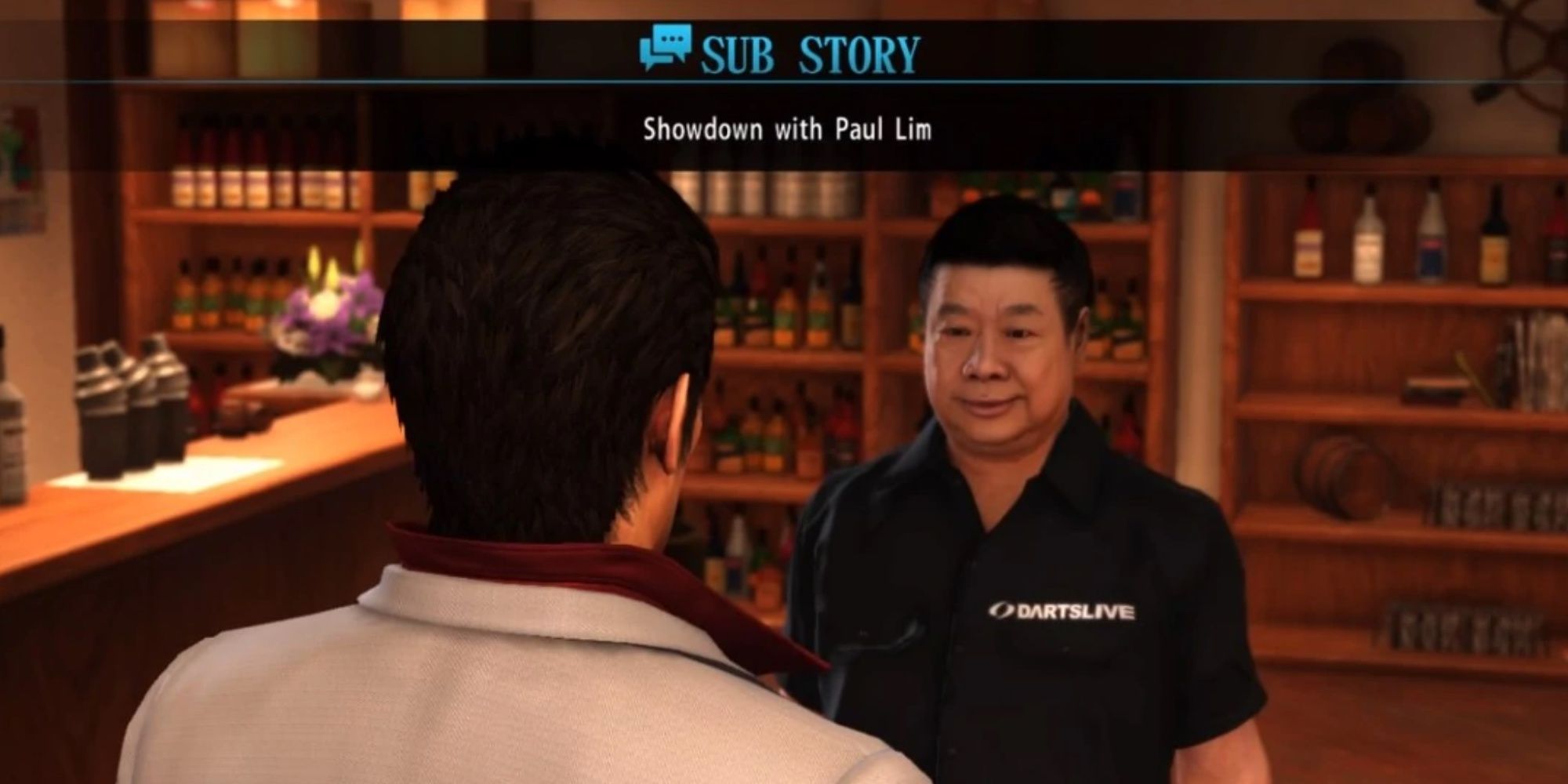 From its debut to Like A Dragon, the Yakuza series has melded influences and locations from the real world into the raucous, wild world of the games.
The series' developer, Ryu Ga Gotoku Studio (RGG), takes the details of Yakuza very seriously, making the games prime real estate to spot fun Easter Eggs and nods to the outside world.
Despite their unusual lifestyles, series regulars Kiryu Kazama and Goro Majima live in a world that isn't as distant from real life as it may seem. These Yakuza legends eat, play, and live in a setting many Japanese locals would recognize as if it were just outside their doors. Playing through Yakuza is as unexpected as it is satisfying, as the series keeps players on the lookout for clever moments that blur fantasy and reality.
Paul Lim — A Living Darts Legend
As you may remember, Dartslive has a product partnership with Yakuza. Perhaps their biggest collaboration came with the inclusion of a substory where Kiryu challenges Paul Lim, a real darts champion. Paul Lim completed a nine-dart finish in the 1990 World Dart Championship, to achieve a perfect 501 score in the fewest possible attempts.
Paul Lim was brought in to voice himself for the Yakuza appearance, and is also the only character to speak English in the entire entry. During the substory Paul teaches Kiryu how to play, as one of the game's legends shares his knowledge with the legendary Dragon of Dojima. Once you have what it takes to succeed your master, you'll receive the best darts in the game as compensation — a fitting reward from one of darts' most famous players. ...continue reading
---
Aggressive dolphins bite more people off Japanese beach, some taken to hospital
ksby.com - Aug 12
People frequenting a Japanese beach are on heightened alert after usually docile wild dolphins have been biting more and more people in the waters off a beach near the south of the country.
---
To understand birthrate crisis, Japan's new male minister tries out 'pregnancy belly'
indianexpress.com - Aug 12
Japanese Prime Minister Fumio Kishida replaced the female minister in charge of tackling the country's falling birthrate and installed a man who sought to deepen his understanding of the issue by trying out a "pregnancy belly."
---
Prices set to rise in Japan for over 10,000 food items on weak yen
Kyodo - Aug 12
Food prices will continue to surge in Japan for the latter half of 2022, with more than 10,000 items set to rise in price from August onward as import costs of materials become more expensive due to a weaker yen, according to a survey by a credit research company.
---
Japan's film industry under pressure over abuse
DW News - Aug 12
The Japanese film industry is following in the footsteps of the #MeToo campaign in other parts of the world, although some fear it will be impossible to entirely stamp out abuse that has become commonplace.
---
Japan has world's highest number of new COVID cases for 3rd straight week
NHK - Aug 12
The World Health Organization says Japan reported the highest number of new COVID-19 cases of any country in the world during the week through Sunday. Japan had the highest number of new cases in the world for the third week in a row.
---
Fuji Rock 2022 Wrap Up
metropolisjapan.com - Aug 12
Fuji Rock 2022, the 25th edition of the festival, saw a return to almost full-scale festivities with nine stages of music and over 150 performances taking place over the three-day event.
---
Man questioned for possessing 'gunpowder' near U.S. Embassy in Tokyo
Japan Today - Aug 11
A man has been questioned by police for possessing a vessel containing what appeared to be homemade gunpowder near the U.S. Embassy in Tokyo earlier this week, investigative sources said Wednesday.
---
Unification Church says Japan members received death threats
Japan Today - Aug 11
Unification Church followers in Japan and their families have faced harassment and death threats since the assassination of former Prime Minister Shinzo Abe, the organization's Japanese branch said Wednesday.
---
Kishida enlists seasoned hands to tackle energy, defense
Nikkei - Aug 11
As Japan faces a myriad of challenges from the coronavirus to an increasingly complex security landscape, Prime Minister Fumio Kishida has packed his cabinet with seasoned lawmakers who he hopes can tackle them head-on.
---
Japan's national debt tops 10m yen per capita for first time
Nikkei - Aug 11
Japan's government debt per capita surpassed 10 million yen, or roughly $75,000, for the first time at the end of June, data released Wednesday shows, as Tokyo poured money into tackling both the coronavirus pandemic and inflation.
---
How centuries of self-isolation turned Japan into one of the most sustainable societies on Earth
econotimes.com - Aug 11
At the start of the 1600s, Japan's rulers feared that Christianity – which had recently been introduced to the southern parts of the country by European missionaries – would spread.
---
Gucci handed a loss in bid to block registration of Japanese trademark
thefashionlaw.com - Aug 11
Gucci has been handed a loss in a trademark fight in Japan, with the national trademark office refusing to block the registration of a mark that counsel for Gucci alleges will cause confusion among consumers.
---
Entertainment Page:
1
|
2
|
3