BOJ bond holdings plunged into the red as yields rose: estimates
Central bank could dip into negative net worth if rates climb further
The Bank of Japan may have been saddled with as much as 600 billion yen ($4.4 billion) in unrealized losses on its Japanese government bond holdings earlier this month, as a widening gap between domestic and overseas monetary policy pushed yields higher and prices lower.
At Nikkei's request, Nomura Securities, Mizuho Securities and Mitsubishi UFJ Morgan Stanley Securities estimated the state of the central bank's JGB portfolio on June 15, before its most recent policy board meeting, where it decided to maintain its ultraloose policy.
The BOJ now owns more than half of all Japanese government bonds amid a buying spree to defend its yield target against rising rates abroad, leaving its finances more exposed than ever to swings in the bond market. This could in turn spell trouble for the Japanese government, which has come to rely on the BOJ indirectly underwriting its spending with massive debt purchases.
Weakening finances would affect the BOJ's ability to keep up the massive purchases of government debt that have underpinned its easing program. As rising interest rates overseas drive up domestic bond yields, the bank has been ramping up efforts to tamp them down, expanding its fixed-rate purchase operations along with both regular and unscheduled bond buys.
These have left it with huge sums of government debt purchased at extremely low interest rates, and thus high prices. The overall yield on the BOJ's portfolio fell to 0.169% in fiscal 2021 from 0.242% in fiscal 2019. The bank is expected to hang on to its holdings for the time being, but its finances could suffer if rates increase and prices fall substantially. ...continue reading
---
Use these tips to find the best betting sites in Japan
newsonjapan.com - Aug 08
Japan is one of the most mysterious countries for a couple of reasons. This place is known for all sorts of things, and it seems like online betting is becoming more popular yearly.
---
Work stoppages and no chatting at lunch: Japan Inc grapples with COVID
Japan Today - Aug 07
Japanese companies are temporarily shutting offices or suspending production as they battle a record wave of COVID-19, disrupting businesses in a country that has until now weathered the pandemic better than most advanced economies.
---
Japan's farm exports hit record high in first six months
Xinhua - Aug 06
Japan's agricultural and seafood exports hit a record high in the first six months of 2022 owing to increased overseas demand as more people dine out amid a decline in COVID-19 infections, the government said in a report Friday.
---
Japan's GPIF posts $28 billion Q1 investment loss on market turbulence
MSN - Aug 06
Japan's Government Pension Investment Fund (GPIF) reported on Friday an investment loss of 3.75 trillion yen ($28.13 billion) for April-June, the second consecutive quarter of negative returns, as economic slowdown fears hit global stock markets.
---
SoftBank raises $22bn in moves to sell down Alibaba stake: FT
Nikkei - Aug 05
SoftBank has raised as much as $22bn in cash from deals that would sharply reduce its stake in Alibaba over the coming years, as the Japanese investor responds to a market downturn that has ravaged its technology portfolio.
---
Japan to bring back crypto ATMs after four years of wait
egamers.io - Aug 05
Japan is finally bringing crypto ATMs (BTMs, according to local terminology) to life after four years.
---
Russia to set up new firm for Sakhalin-2, future of Japanese stakes unclear
NHK - Aug 04
The Russian government says it will establish a new company to take over the Sakhalin-2 oil and liquefied natural gas project in the country's Far East.
---
Japan continues exporting huge number of used cars to Russia
New Straits Times - Aug 04
Despite imposing various sanctions against Russia, Japan is still exporting a huge number of used cars to the country.
---
A precious metals shortage is pushing Nissan to rent, not sell, electric vehicles to customers
fortune.com - Aug 04
The circular economy is coming to electric vehicles for both environmental and financial reasons, as a leading Japanese automaker plans on starting a rental scheme for its battery-powered cars.
---
Japan's Nomura Reports 97% Slump in Profit on Deal Drought
Bloomberg Markets and Finance - Aug 04
Nomura Holdings Inc., Japan's largest brokerage, reported a 97% plunge in profit. Gains from fixed income trading were unable to make up for weaknesses elsewhere. Russell Ward reports on Bloomberg Television.
---
Toyota unit Hino has falsified engine data for nearly 20 years
Nikkei - Aug 03
Japanese truck maker Hino Motors, a unit of Toyota Motor, said on Tuesday that it has been falsifying data related to engine emissions and fuel performance for a longer period of time and on more models than previously admitted, making it more difficult for the company to rebuild its management and restore credibility.
---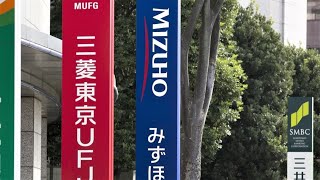 Japanese megabanks facing growing earnings pressure after mixed Q1 results
spglobal.com - Aug 03
Japan's three megabanks are facing growing earnings pressure after posting mixed results in the fiscal first quarter amid slowing capital market activity, rising U.S. interest rates and the ongoing effects of the COVID-19 pandemic.
---
Business Page:
1
|
2
|
3
|
4
|
5
|
6
|
7