Use All 4 Asset Classes to Build Your Portfolio
4つの資産クラスすべてを使用してポートフォリオを構築します
When dealing with investments, it's essential to understand the different asset classes and which investments fall into each.
An asset class is a collection of investments that share similarities—including how they behave in the marketplace, the purchasing process, and how the government regulates them. Historically, there have been three primary asset classes, but today financial professionals generally agree that there are four broad classes of assets:
Equities (stocks)
Fixed-income and debt (bonds)
Options
Real estate and tangible assets
If your portfolio includes investments spread across the four asset classes, it's considered balanced—which is ideal because it helps to reduce risk while maximizing return. If your portfolio is heavily concentrated in a limited number of sectors and those sectors underperform, your portfolio will take a large hit.
If, though, your portfolio is well-diversified and few asset classes experience difficulties, this won't impact the entire thing. You'll still have other assets performing adequately enough to alleviate the decline in value. This kind of diversification is key to protecting your portfolio.
Equities
Equity represents ownership. When you purchase shares in a company, you're purchasing ownership in that company. For example, if Company ABC has 100,000 shares and you buy 1,000, you will own 1% of Company ABC. As part-owner, you have rights to a portion of a company's profits, and these are usually paid out to investors in the form of a dividend. The dividend amount varies by company, and some companies may choose to use the dividends to reinvest back into the company for growth.
Although stocks are lumped together, the same investing principles should not apply to them as a whole. For example, investing in a hyper-growth startup is very different from investing in a blue-chip stock that's been around for decades.
Differences in sectors can also influence the behavior of stocks. Defensive stocks, such as stock of food companies and utilities, are goods that people always need and thus always buy. By contrast, cyclical stocks, such as luxury goods companies, tend to perform better during a strong economy when consumers have extra cash to spend. As a result, these two stock types behave differently, which will in turn impact your investing strategy.
Fixed-Income and Debt
Whenever you purchase an institution's bonds, you're essentially lending them money—which is why they represent debt. In return for this loan, the institution promises to pay interest on the loan in the form of periodic payments. These interest payments are paid to bondholders throughout the life of the bond, and the principal is returned at the end of the term (referred to as the maturity date). For example, if you buy a $1,000 5-year bond with an annual interest rate of 2%, you'll receive biannual payments of $10.
Options
When you trade options, you purchase or sell an underlying asset at a predetermined price by a specific date in the future.
Stock option trading is considerably more complicated than stock trading. When you buy a stock, all you have to do is specify how many shares you want, and your broker will complete your order at the current market price or a price limit you choose. Options trading necessitates a thorough grasp of sophisticated tactics, and the procedure of creating an options trading account is more involved than that of opening a traditional investing account.
Some traders who have enough expertise with options trading may desire to go into more complicated investments like binary options trading.
The notion of a Binary Option is based on the outcome or outcome of a "Yes" or "No" proposition. It establishes a preset payment as well as a loss amount. The payment is set in this case.
It's a good idea to learn more about binary options trading before making a high-risk investment like this. Otherwise, you risk losing all of your money in a matter of minutes. More technical binary trading information can be beneficial for investors who want to trade in binary options.
Real Estate and Tangible Assets
Tangible assets—ones you can physically see and touch—are grouped into their own asset class. Real estate is the most common type of tangible asset that people own, but commodities, like gold and livestock, also fall into this category. Generally, these types of assets can withstand periods of inflation.
Aug 01 (newsonjapan.com) - 投資を扱うときは、さまざまな資産クラスと、それぞれに分類される投資を理解することが不可欠です。 ...
continue reading
---
Use these tips to find the best betting sites in Japan
newsonjapan.com - Aug 08
Japan is one of the most mysterious countries for a couple of reasons. This place is known for all sorts of things, and it seems like online betting is becoming more popular yearly.
---
Work stoppages and no chatting at lunch: Japan Inc grapples with COVID
Japan Today - Aug 07
Japanese companies are temporarily shutting offices or suspending production as they battle a record wave of COVID-19, disrupting businesses in a country that has until now weathered the pandemic better than most advanced economies.
---
Japan's farm exports hit record high in first six months
Xinhua - Aug 06
Japan's agricultural and seafood exports hit a record high in the first six months of 2022 owing to increased overseas demand as more people dine out amid a decline in COVID-19 infections, the government said in a report Friday.
---
Japan's GPIF posts $28 billion Q1 investment loss on market turbulence
MSN - Aug 06
Japan's Government Pension Investment Fund (GPIF) reported on Friday an investment loss of 3.75 trillion yen ($28.13 billion) for April-June, the second consecutive quarter of negative returns, as economic slowdown fears hit global stock markets.
---
SoftBank raises $22bn in moves to sell down Alibaba stake: FT
Nikkei - Aug 05
SoftBank has raised as much as $22bn in cash from deals that would sharply reduce its stake in Alibaba over the coming years, as the Japanese investor responds to a market downturn that has ravaged its technology portfolio.
---
Japan to bring back crypto ATMs after four years of wait
egamers.io - Aug 05
Japan is finally bringing crypto ATMs (BTMs, according to local terminology) to life after four years.
---
Russia to set up new firm for Sakhalin-2, future of Japanese stakes unclear
NHK - Aug 04
The Russian government says it will establish a new company to take over the Sakhalin-2 oil and liquefied natural gas project in the country's Far East.
---
Japan continues exporting huge number of used cars to Russia
New Straits Times - Aug 04
Despite imposing various sanctions against Russia, Japan is still exporting a huge number of used cars to the country.
---
A precious metals shortage is pushing Nissan to rent, not sell, electric vehicles to customers
fortune.com - Aug 04
The circular economy is coming to electric vehicles for both environmental and financial reasons, as a leading Japanese automaker plans on starting a rental scheme for its battery-powered cars.
---
Japan's Nomura Reports 97% Slump in Profit on Deal Drought
Bloomberg Markets and Finance - Aug 04
Nomura Holdings Inc., Japan's largest brokerage, reported a 97% plunge in profit. Gains from fixed income trading were unable to make up for weaknesses elsewhere. Russell Ward reports on Bloomberg Television.
---
Toyota unit Hino has falsified engine data for nearly 20 years
Nikkei - Aug 03
Japanese truck maker Hino Motors, a unit of Toyota Motor, said on Tuesday that it has been falsifying data related to engine emissions and fuel performance for a longer period of time and on more models than previously admitted, making it more difficult for the company to rebuild its management and restore credibility.
---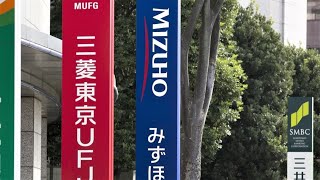 Japanese megabanks facing growing earnings pressure after mixed Q1 results
spglobal.com - Aug 03
Japan's three megabanks are facing growing earnings pressure after posting mixed results in the fiscal first quarter amid slowing capital market activity, rising U.S. interest rates and the ongoing effects of the COVID-19 pandemic.
---
Business Page:
1
|
2
|
3
|
4
|
5
|
6
|
7