Mercury tops 39 degrees in Obama City on Sea of Japan
Scorching heat prevailed again on Monday over wider Japan, with temperatures soaring above 39 degrees Celsius in Obama City on the Sea of Japan coast.
The Meteorological Agency says clear skies and burning sunshine engulfed western and eastern Japan, among other regions. The foehn phenomenon, in which winds blowing down from mountains become dry and push up temperatures, also reinforced the heat along the Sea of Japan and inland areas.
Daytime temperatures reached a record 39.1 degrees in Obama, Fukui Prefecture, and 38.9 degrees in Yonago City, Tottori Prefecture. The mercury topped 38 degrees in areas in Saitama Prefecture.
Temperatures are expected to remain above 25 degrees overnight, prompting weather officials to warn of heatstroke.
Temperatures are also forecast to rise further on Tuesday as a high pressure system is expected to gain strength.
Weather officials advise people to refrain from going outside and to avoid exercising during the daytime if possible.
They also urge people to use air conditioners appropriately, stay hydrated by drinking water at night, and to remove masks when they are outdoors and not engaging in conversation.
Atmospheric conditions remain unstable mainly in the region of Kanto Koshin and northern Japan.
The regions of Hokkaido and northern Tohoku may have heavy rain of 30 millimeters an hour or more through Tuesday. Stormy weather may hit some areas in Kanto Koshin, accompanied by heavy rains overnight of 50 millimeters or more in an hour.
In Kanto Koshin, there are chances of a sudden change in weather during the day. Weather officials are urging residents there to be on alert for mudslides, floods in low-lying areas and swollen rivers.
---
Sustained rains in Japan leave damage, landslide risks
Kyodo - Aug 06
Torrential rains have continued to fall across a wide part of Japan on Friday, with record downpours reported in Fukui and Shiga prefectures as rivers have overflowed and many areas are left at increased risk of landslides.
---
Heavy rain lashes Sea of Japan coast
NHK - Aug 05
Officials are warning of more rain on Friday after record rainfall hit parts of the Japanese region of Hokuriku and Niigata and Yamagata Prefectures from Wednesday through Thursday, causing flooding and landslides. They are urging vigilance over landslides and flooding in low-lying areas.
---
JAL system makes air travel easier and lets you keep laptops, liquids in bag for security check
soranews24.com - Aug 05
Passengers can keep computers and liquids inside their carry-on until they actually want to use them, thanks to new system.
---
Revitalization of Japanese tourism to Hawaii slower than expected
kitv.com - Aug 04
The highly anticipated return of Japanese travelers to Hawaii was expected to dramatically increase with foreign border restrictions loosening back in June 2022.
---
Heavy rain causes wide damage in north, central Japan
NHK - Aug 04
Japan's Meteorological Agency has issued an emergency heavy rain warning for Niigata Prefecture, next to Yamagata Prefecture, where the same warning was issued on Wednesday night. It's a level 5 alert, the highest on the emergency scale.
---
Kanto lighting up the night sky for the first time in three years
時事通信トレンドニュース - Aug 04
"Kanto Festival" is being held in Akita City for the first time in three years.
---
JAPANESE FESTIVALS are CRAZY (it was too hot!) *street food, dancing, and games*
ちゅーそんちゃんねるChuson Channel - Aug 04
We are going to Tokyo SkyTree for a festival.
---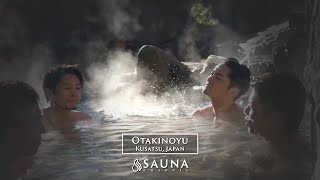 Ohtaki No Yu - Kusatsu, Japan
Sauna Channel - Aug 04
Time to relax in one of Kusatsu's natural hot spring baths, commonly known as onsen, with Sho Ikushima at Ohtaki No Yu.
---
Heatwave continues to grip western, eastern Japan
NHK - Aug 03
The ongoing heatwave is gripping wide areas of western through eastern Japan on Wednesday, with the mercury reaching 39 degrees Celsius in some cities near Tokyo. Officials are urging people to take full precautions against heatstroke.
---
Japan swelters as temperatures climb over 30 C
Japan Today - Aug 02
Temperatures rose across Japan on Tuesday, topping 30 C from the morning in 380 locations, with the weather agency warning of heat-related illnesses.
---
Mercury tops 39 degrees in Obama City on Sea of Japan
NHK - Aug 01
Scorching heat prevailed again on Monday over wider Japan, with temperatures soaring above 39 degrees Celsius in Obama City on the Sea of Japan coast.
---
Japan is open to travel. So why aren't tourists coming back?
CNN - Aug 01
Summer 2022 has been dominated by stories about travel mishaps, overcrowding at major destinations and airports and life-threatening heat waves in Europe. Yet in Asia, where many countries are reopening in a more gradual fashion -- with fewer flight cancellations or horror stories about lost luggage -- tourists have been slow to come back.
---
Travel Page:
1
|
2
|
3
|
4
|
5
|
6
|
7