Nagasaki calls for peace on 77th anniversary of atomic bombing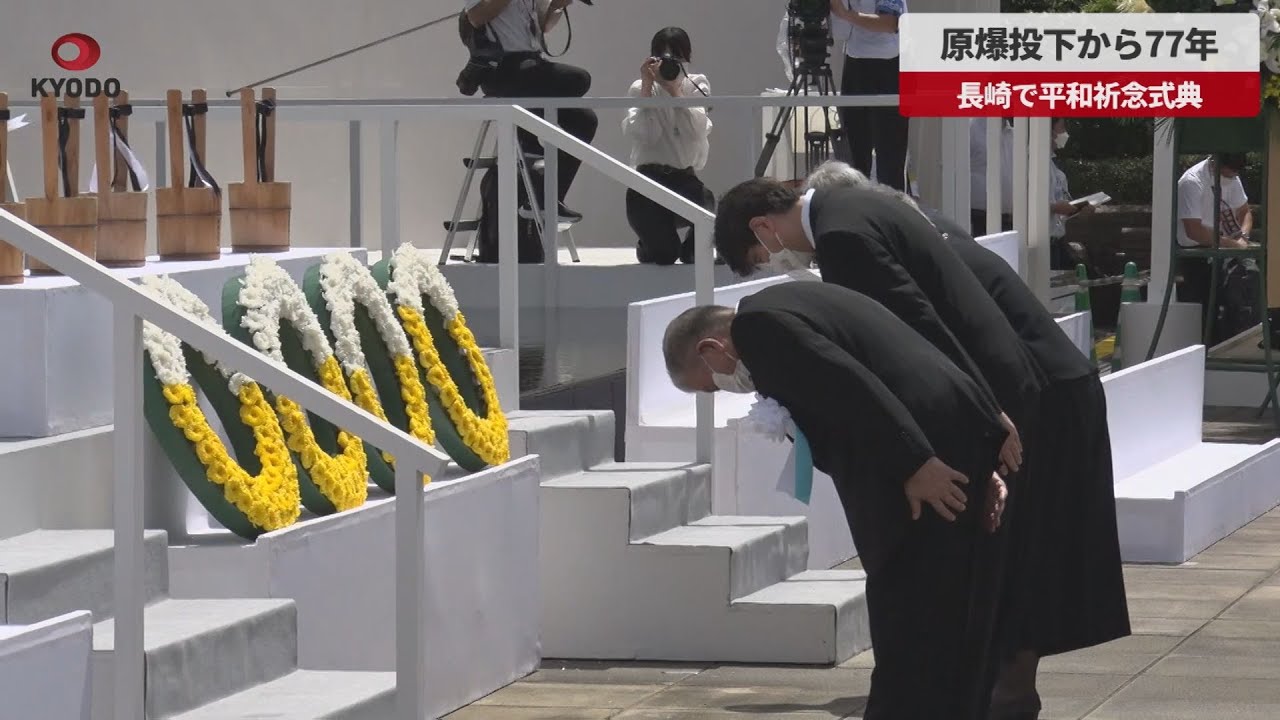 People in Japan are remembering the victims of one of history's most catastrophic wartime attacks. Tuesday marks 77 years since the atomic bombing of Nagasaki during World War Two.
Survivors of the bombing, along with Prime Minister Kishida Fumio and representatives from dozens of countries, gathered at a ceremony on Tuesday to pray for a world without war and nuclear weapons.
Nagasaki fell silent at 11:02 a.m. -- the same minute the bomb exploded on August 9,1945. The heat rays, radiation and blast wave destroyed the city, killing more than 70,000 people by the end of that year.
Many who survived suffer from cancer and other diseases related to their exposure to radiation.
Nagasaki Mayor Taue Tomihisa referred in his peace declaration to the review conference of the nuclear non-proliferation treaty, or the NPT, scheduled later this month. He stressed that the nuclear states hold a particular responsibility due to the NPT, and a concrete process for nuclear arms reductions must be shown.
Japanese Prime Minister Kishida Fumio stressed that his country is committed to pursuing a world without nuclear weapons. He said that even in the face of a severe security environment, humanity must continue the trend of not using nuclear weapons, and keep Nagasaki the last place to suffer an atomic bombing. The prime minister added that ensuring transparency, continuing to reduce nuclear arms, and upholding nuclear non-proliferation remain essential initiatives.
The average age of the atomic bomb survivors is now over 84. As they get older, it is becoming a challenge to pass on their experiences to future generations and to the world.
...
continue reading
---
7 Imperial family members to attend Abe's state funeral
NHK - Sep 22
Crown Prince and Crown Princess Akishino and five other Imperial family members will attend the state funeral of former Prime Minister Abe Shinzo next week.
---
Man sets himself on fire near Japan PM's office
ucanews.com - Sep 21
A man set himself on fire near the Japanese prime minister's office on Wednesday after expressing opposition to a state funeral for assassinated ex-premier Shinzo Abe, local media reported.
---
Kishida approval rating sinks to new low of 43%: Nikkei survey
Nikkei - Sep 20
Support for Prime Minister Fumio Kishida's cabinet plumbed a new low in the latest Nikkei/TV Tokyo poll, as the public expressed discontent with the ruling Liberal Democratic Party's investigation of ties between its members and the Unification Church.
---
Japan govt. ordered to pay damages over death of detained Cameroon man
NHK - Sep 16
A Japanese court has ordered the government to pay damages over the death of a Cameroonian man in 2014 while he was detained at an immigration center in Ibaraki Prefecture.
---
40 percent of evacuees from Afghanistan have left Japan over poor support
Japan Today - Sep 15
Around 40 percent of the 169 people who fled to Japan from Afghanistan following the Taliban's return to power in August last year have left their new home due to what they say was pressure and a lack of support from the Japanese Foreign Ministry.
---
Kadokawa chairman arrested on suspicion of bribery linked to Tokyo Games
NHK - Sep 14
Tokyo prosecutors have arrested the chairman of major Japanese publisher Kadokawa on suspicion of bribing a former executive of the Tokyo Olympics and Paralympics organizing committee over a sponsorship deal.
---
Govt. hotline on ex-Unification Church gets more than 1,000 calls
NHK - Sep 13
A Japanese government hotline for people who have problems linked to a religious group formerly known as the Unification Church has fielded more than 1,000 calls in five days.
---
Okinawa reelects governor opposing heavy US troop presence
columbian.com - Sep 12
Okinawa's incumbent governor who opposes an ongoing U.S. Marine base relocation forced by Japan's central government and calls for a further reduction of American troops on the southern island secured his reelection on Sunday despite concerns of escalating tensions between China and nearby Taiwan.
---
Half of Japan governing lawmakers tied to Unification Church
AP - Sep 09
Japan's governing party said Thursday that an internal survey found that nearly half of its national lawmakers had ties to the Unification Church, in a widening controversy that emerged after the assassination of former Prime Minister Shinzo Abe.
---
Japan to take 'necessary action' if yen's slide continues
canindia.com - Sep 08
Japanese Finance Minister Shunichi Suzuki on Wednesday said the government will take "necessary action" if the trend of the weakening yen continues.
---
Japan to shorten COVID isolation period, simplify nationwide case count system
NHK - Sep 07
Japan's government has decided to shorten the self-isolation period for coronavirus patients and simplify the national system for counting new cases.
---
Arrested ex-Tokyo Olympic exec may have been asked to favor Kadokawa Corp
Japan Today - Sep 04
Haruyuki Takahashi, a former Tokyo Olympic organizing committee executive arrested in a bribery case involving a sponsorship contract for a clothes retailer, may also have been asked to favor publishing company Kadokawa Corp, a source familiar with the matter said Saturday.
---
Politics Page:
1
|
2
|
3
|
4
|
5
|
6
|
7