Yahoo Japan Corp. is blunting the impact of a large stock sale by a big shareholder, buying back about ¥221 billion ($2 billion) worth of its shares in a complicated deal with SoftBank Group Corp.
The deal was triggered by Altaba Inc., which warned in February that it would start divesting its 35 percent stake in Yahoo Japan, fueling a selloff of the web portal as investors braced for the prospect of more shares hitting the market.
Altaba was created last year when Yahoo Inc. was sold, so that its lucrative stakes in Yahoo Japan and Alibaba Group Holding Ltd. could be carved out.
The plan, announced by the parties Tuesday, is for SoftBank to buy 11 percent of Yahoo Japan from New York-based Altaba, and then for Yahoo Japan to buy back its own shares from SoftBank.
The entire transaction essentially lets Yahoo Japan remove a major overhang from its stock, while keeping its relationship with SoftBank mostly the same. Yahoo Japan investors cheered the news, sending the company's shares climbing as much as 13 percent.
What remains uncertain is what the parties will do when Altaba decides to sell more of its stake in Yahoo Japan, now at 27 percent.
"No one really expects SoftBank to take a majority stake," said Kazunori Ito, an analyst at Morningstar Investment Services in Tokyo. "This still leaves the question of what will happen to Altaba's remaining stake."
SoftBank Group founder Masayoshi Son has previously said he prefers to keep a minority stake in Yahoo Japan. After Tuesday's deal, SoftBank's ownership in the company will remain at about the same levels, at 48.17 percent.
The risk of a selloff was compounding an already bleak outlook for Japan's most popular internet portal. Yahoo Japan in April said profit fell for the second consecutive year, a trend that analysts project will continue in the current fiscal period.
ヤフーは、約2200億円を上限に自社株買いを実施すると発表しました。 ヤフーによりますと、自社株買いの規模はヤフーの発行済み株式の約10%にあたる6億1000万株で約2200億円に相当します。
Aug 11
SoftBank Group on Tuesday reported a net profit of 1.25 trillion yen ($11.8 billion) in the April-June quarter thanks to the merger and sale of its stake in U.S. mobile carrier Sprint, marking a return to profit after suffering its worst ever loss in the previous quarter.
(Nikkei)
Aug 10
Despite uncertainties from COVID-19, top Japanese corporations plan to invest 15.8% more in information technology in fiscal 2020 to keep up the wave of digitization across industries.
(Nikkei)
Aug 10
Colorful kimono are synonymous with Tokyo summer celebrations but anti-coronavirus measures have put social gatherings off-limits and led struggling department stores to push the traditional Japanese outfits as a way to make a virtual fashion statement.
(Japan Times)
Aug 07
Official figures indicate that Japanese households may be recovering from the economic impact of COVID-19. Spending was down in June, but by a much smaller margin than the month before.
(NHK)
Aug 07
Japan's powerful business lobby, the Keidanren, is dominated by energy-intensive sectors that represent less than 10 percent of the economy, resulting in national policies that favour coal and hindering attempts to combat climate change, a new study said.
(aljazeera.com)
Aug 07
Toyota's profit plunged 74% in the last quarter as the coronavirus pandemic sank vehicle sales to about half of what the top Japanese automaker sold the previous year.
(krmg.com)
Aug 06
The average summer bonus at major Japanese companies this year dropped 2.17 percent from a year earlier to ¥901,147, a Japan Business Federation survey showed Wednesday.
(Japan Times)
Aug 06
Uber Technologies has begun to offer a food delivery subscription in Japan that replaces per-order fees, tapping into the growing demand from consumers holed up at home from the coronavirus.
(Nikkei)
Aug 05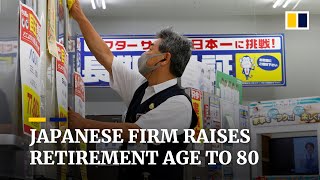 Japan's decision to offer an initial group of 87 companies subsidies totalling US$653 million to expand production at home and in Southeast Asia has sparked debate whether the world's third largest economy is trying to gradually decouple from China.
(scmp.com)
Aug 05
About 60 percent of people in the nation who developed cold-like symptoms during the first wave of the novel coronavirus pandemic, between February and May, went to work despite a request by the government for them not to do so, a recent survey has found.
(Japan Times)
---