Yahoo Japan Corp. is blunting the impact of a large stock sale by a big shareholder, buying back about ¥221 billion ($2 billion) worth of its shares in a complicated deal with SoftBank Group Corp.
The deal was triggered by Altaba Inc., which warned in February that it would start divesting its 35 percent stake in Yahoo Japan, fueling a selloff of the web portal as investors braced for the prospect of more shares hitting the market.
Altaba was created last year when Yahoo Inc. was sold, so that its lucrative stakes in Yahoo Japan and Alibaba Group Holding Ltd. could be carved out.
The plan, announced by the parties Tuesday, is for SoftBank to buy 11 percent of Yahoo Japan from New York-based Altaba, and then for Yahoo Japan to buy back its own shares from SoftBank.
The entire transaction essentially lets Yahoo Japan remove a major overhang from its stock, while keeping its relationship with SoftBank mostly the same. Yahoo Japan investors cheered the news, sending the company's shares climbing as much as 13 percent.
What remains uncertain is what the parties will do when Altaba decides to sell more of its stake in Yahoo Japan, now at 27 percent.
"No one really expects SoftBank to take a majority stake," said Kazunori Ito, an analyst at Morningstar Investment Services in Tokyo. "This still leaves the question of what will happen to Altaba's remaining stake."
SoftBank Group founder Masayoshi Son has previously said he prefers to keep a minority stake in Yahoo Japan. After Tuesday's deal, SoftBank's ownership in the company will remain at about the same levels, at 48.17 percent.
The risk of a selloff was compounding an already bleak outlook for Japan's most popular internet portal. Yahoo Japan in April said profit fell for the second consecutive year, a trend that analysts project will continue in the current fiscal period.
ヤフーは、約2200億円を上限に自社株買いを実施すると発表しました。 ヤフーによりますと、自社株買いの規模はヤフーの発行済み株式の約10%にあたる6億1000万株で約2200億円に相当します。
Sep 21
Toyota Motor has unveiled the first yacht under its Lexus luxury brand, with a 450 million yen ($4.17 million) price tag in Japan that aims it squarely at the super-rich.
(Nikkei)
Sep 20
A Japanese district court has found all three former executives of Tokyo Electric Power Company not guilty in the only criminal prosecution stemming from the 2011 nuclear disaster in Fukushima.
(NHK)
Sep 20
E-commerce giant Amazon Japan has announced it will launch a locker delivery service called Amazon Hub at the major convenience store chain FamilyMart and train stations along the Odakyu line.
(Japan Today)
Sep 18
Toyota Motor Corp. rolled out a new model of the Corolla on Tuesday, making it the first fully redesigned sedan in about seven years.
(Kyodo)
Sep 18
The Japanese government is considering tighter restrictions on foreign investment in industries it sees as key to national security, such as nuclear power and chipmaking.
(Nikkei)
Sep 13
Yahoo Japan's acquisition of online fashion retailer Zozo presents an opportunity for the venerable internet services company to bring fresh blood into its e-commerce audience as the business looks to step outside the shadow of Amazon.com and Rakuten.
(Nikkei)
Sep 11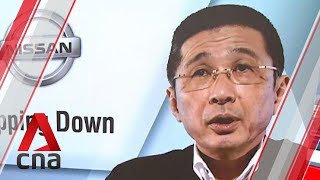 In Japan, is there one standard of justice for Japanese executives and another for non-Japanese executives? The forced resignation on Monday of Nissan Motor Co.'s chief executive officer, Hiroto Saikawa, certainly seems to suggest as much.
(Bloomberg)
Sep 11
Japan's real gross domestic product retreated 0.5% in July compared with the previous month as rising imports led to negative external demand, the Japan Center for Economic Research reported Wednesday.
(Nikkei)
Sep 10
The month between World Suicide Prevention Day on September 10 and World Mental Health Day on October 10 is a good time to start considering the under-discussed topics of anxiety, depression and suicide in our society, especially as they relate to the workplace.
(Nikkei)
Sep 10
Nissan Chief Executive Hiroto Saikawa tendered his resignation Monday after acknowledging that he had received dubious income and vowed to pass the leadership of the Japanese automaker to a new generation.
(Japan Today)
---