Airbnb and other home-sharing services are recovering in Japan in the wake of strict regulations introduced almost a year ago, and some industry experts say there is more room to flourish, especially in rural areas.
According to the Japan Tourism Agency, 14,701 minpaku, or private lodgings, were registered with local authorities as of March 15, 2019 -- a hefty increase from the 2,210 listed as of June 15, 2018, when the new rules were implemented.
The number of rooms currently registered with the JTA is still only about 20% of the 62,000 homes listed on Airbnb just before the new law hit the market. Airbnb was forced to remove nearly 80% of its listings because hosts had not registered with the local government; thousands of users saw their existing bookings canceled.
But new projections from Fuji Keizai Networks, a leading information provider, show the home-share market almost doubling by 2020 from 2018, suggesting a full recovery. Chris Lehane, global head of policy and public affairs for Airbnb, confirms its listings are on a recovery track and says the tone of its discussions with the government has changed. Last June, he says, the government was "pushing for us to respect legal structure," whereas now they are "talking about moving forward."
The strict rules were designed to protect Japan's hotel industry, says Takayuki Miyajima, a senior economist at Mizuho Research Institute. The regulations cap the time owners can rent out their homes to 180 days a year. The private lodgings are also subject to local regulations, which can vary from place to place. In the city of Kyoto, for example, hosts can operate only from mid-January to mid-March.
The Airbnb "shock" rattled travelers, most of whom were foreign tourists. According to data from the JTA, some 80% of guests at Airbnb and its rivals are from overseas.
Aug 11
SoftBank Group on Tuesday reported a net profit of 1.25 trillion yen ($11.8 billion) in the April-June quarter thanks to the merger and sale of its stake in U.S. mobile carrier Sprint, marking a return to profit after suffering its worst ever loss in the previous quarter.
(Nikkei)
Aug 10
Despite uncertainties from COVID-19, top Japanese corporations plan to invest 15.8% more in information technology in fiscal 2020 to keep up the wave of digitization across industries.
(Nikkei)
Aug 10
Colorful kimono are synonymous with Tokyo summer celebrations but anti-coronavirus measures have put social gatherings off-limits and led struggling department stores to push the traditional Japanese outfits as a way to make a virtual fashion statement.
(Japan Times)
Aug 07
Official figures indicate that Japanese households may be recovering from the economic impact of COVID-19. Spending was down in June, but by a much smaller margin than the month before.
(NHK)
Aug 07
Japan's powerful business lobby, the Keidanren, is dominated by energy-intensive sectors that represent less than 10 percent of the economy, resulting in national policies that favour coal and hindering attempts to combat climate change, a new study said.
(aljazeera.com)
Aug 07
Toyota's profit plunged 74% in the last quarter as the coronavirus pandemic sank vehicle sales to about half of what the top Japanese automaker sold the previous year.
(krmg.com)
Aug 06
The average summer bonus at major Japanese companies this year dropped 2.17 percent from a year earlier to ¥901,147, a Japan Business Federation survey showed Wednesday.
(Japan Times)
Aug 06
Uber Technologies has begun to offer a food delivery subscription in Japan that replaces per-order fees, tapping into the growing demand from consumers holed up at home from the coronavirus.
(Nikkei)
Aug 05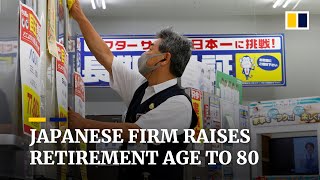 Japan's decision to offer an initial group of 87 companies subsidies totalling US$653 million to expand production at home and in Southeast Asia has sparked debate whether the world's third largest economy is trying to gradually decouple from China.
(scmp.com)
Aug 05
About 60 percent of people in the nation who developed cold-like symptoms during the first wave of the novel coronavirus pandemic, between February and May, went to work despite a request by the government for them not to do so, a recent survey has found.
(Japan Times)
---