Budget restaurant chains in Japan that are struggling with sluggish sales are wondering: Where are all the "wandering salarymen"?
The Japanese government's work-style reforms, designed to give corporate employees more flexibility and reduce overtime, were widely expected to help affordable eateries. It seemed logical. Workers would pour out of offices earlier, and with extra free time on their hands, they would be more inclined to wander around and pop into standing bars, izakaya Japanese-style pubs and other casual establishments on the way home.
Yet, ramen noodle chain operator Hiday Hidaka left market watchers scratching their heads with its lackluster latest earnings. Customer traffic from March through May fell 3% to 5%, hurting the company's quarterly results -- and hinting at deeper changes in Japanese consumer habits.
Many thought the operator's Hidakaya chain had a competitive advantage as a place to grab a quick drink and meal, since izakaya tend to be more expensive. To an extent, the noodle shops may still be feeling the effects of price hikes implemented in April 2018. But this past March, the chain tried to lure in customers by cutting the price of the first mug of beer to 290 yen ($2.70) from 330 yen. It has little to show for it.
"Though the hours of overtime worked by employees in this country have indeed declined," a company spokesperson said, "overtime pay may have decreased as well."
Hiday Hidaka is not alone. Yoshinoya Holdings, known for its chain of gyudon beef-on-rice restaurants, has not received much help from the work reforms either. The company has been pushing pub-style menu options to pull people in for after-work drinks, but although this generated a buzz for a while, the effects appear to have ebbed.
Customer flows are also weak at Saizeriya, which runs budget Italian restaurants. Like Hidakaya and Yoshinoya, Saizeriya had been counting on newly liberated workers coming in for a few quick, cheap drinks and a meal.
Aug 11
SoftBank Group on Tuesday reported a net profit of 1.25 trillion yen ($11.8 billion) in the April-June quarter thanks to the merger and sale of its stake in U.S. mobile carrier Sprint, marking a return to profit after suffering its worst ever loss in the previous quarter.
(Nikkei)
Aug 10
Despite uncertainties from COVID-19, top Japanese corporations plan to invest 15.8% more in information technology in fiscal 2020 to keep up the wave of digitization across industries.
(Nikkei)
Aug 10
Colorful kimono are synonymous with Tokyo summer celebrations but anti-coronavirus measures have put social gatherings off-limits and led struggling department stores to push the traditional Japanese outfits as a way to make a virtual fashion statement.
(Japan Times)
Aug 07
Official figures indicate that Japanese households may be recovering from the economic impact of COVID-19. Spending was down in June, but by a much smaller margin than the month before.
(NHK)
Aug 07
Japan's powerful business lobby, the Keidanren, is dominated by energy-intensive sectors that represent less than 10 percent of the economy, resulting in national policies that favour coal and hindering attempts to combat climate change, a new study said.
(aljazeera.com)
Aug 07
Toyota's profit plunged 74% in the last quarter as the coronavirus pandemic sank vehicle sales to about half of what the top Japanese automaker sold the previous year.
(krmg.com)
Aug 06
The average summer bonus at major Japanese companies this year dropped 2.17 percent from a year earlier to ¥901,147, a Japan Business Federation survey showed Wednesday.
(Japan Times)
Aug 06
Uber Technologies has begun to offer a food delivery subscription in Japan that replaces per-order fees, tapping into the growing demand from consumers holed up at home from the coronavirus.
(Nikkei)
Aug 05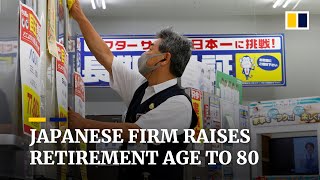 Japan's decision to offer an initial group of 87 companies subsidies totalling US$653 million to expand production at home and in Southeast Asia has sparked debate whether the world's third largest economy is trying to gradually decouple from China.
(scmp.com)
Aug 05
About 60 percent of people in the nation who developed cold-like symptoms during the first wave of the novel coronavirus pandemic, between February and May, went to work despite a request by the government for them not to do so, a recent survey has found.
(Japan Times)
---