Tick, tock. We're at Takamatsu's dock with one eye on the clock. For it's a daunting mission, squeezing the best of some 200 artworks scattered over a dozen islands and two ports in Japan's Seto Inland Sea into two days.
About half the works are permanent and can be seen any time. But in a Setouchi Triennale year such as 2019, offerings expand to produce an infinitely more thrilling experience in this once cultural backwater where manufacturing reigned supreme. Now art attracts visitors from around the world.
The contemporary art festival unfolds every three years over three sessions. But the clock is ticking on your chances of getting to the 2019 edition. After openings over spring (April 26 to May 26) and summer (July 19 to August 25), the final, autumn session is open until November 4.
Visiting during this year's spring session, we had an express card in the form of Inside Japan Tours guide Aya Komura, who lived on the most famous of the art islands, Naoshima, for three years while working for its museums. There's nothing she doesn't know about the best ways to traipse around these islands.
May 26
The Japanese government has lifted the state of emergency in the last five of the country's 47 prefectures.
(NHK)
May 26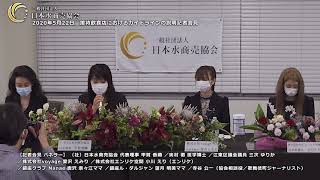 An association comprised of hostess clubs has issued guidelines for how clubs will operate once they reopen due to the lifting of the state of emergency caused by the novel coronavirus pandemic.
(tokyoreporter.com)
May 26
Tokyo Metropolitan Police arrested a man after allegedly trespassed onto the grounds of the Imperial Palace on Monday, reports Jiji Press (May 25).
(tokyoreporter.com)
May 26
A retired racehorse has escaped from a racetrack in Tokyo and was hit by a vehicle while running through a nearby intersection.
(NHK)
May 26
The government will carry out support measures to shore up demand in the travel and restaurant industries hit hard by the coronavirus pandemic, starting late July, sources said Monday.
(Japan Times)
May 26
An apparent suicide note written by Hana Kimura, the 22-year-old professional wrestler and cast member of the internationally popular Netflix reality show "Terrace House," was found at her Tokyo home in the wake of her death, investigative sources said Monday.
(Japan Times)
May 26
Japan's professional baseball teams will start the 2020 season on June 19 after a three-month delay due to the coronavirus outbreak.
(NHK)
May 26
One of Japan's major airlines plans to make the wearing of face masks compulsory as the industry shifts toward operating in a new coronavirus pandemic normal.
(Japan Times)
May 26
The number of foreign tourists staying at hotels in the normally thronging tourist destination of Kyoto plunged 89.5 percent in March from a year earlier amid the coronavirus pandemic, according to a recent survey.
(Japan Times)
May 26
Tokyo Metropolitan Police have arrested a 25-year-old male company employee for allegedly trespassing onto the premises of a female neighbor in Machida City, reports TV Asahi (May 25).
(tokyoreporter.com)
---