Tokyo governor is calling on residents in the city to stay home this coming weekend unless they absolutely need to go out.
It comes after officials confirmed more than 40 more cases of infection with the new coronavirus on Wednesday, the largest one-day spike the city has seen so far.
Governor Yuriko Koike said that Tokyo is now at a critical juncture. She is appealing to Tokyo residents to realize this situation and do their work at home as much as possible on weekdays. Though she added she understands that may not be possible depending on one's line of work. She is calling on people to refrain from going out in the evening and is asking residents to refrain from going out this weekend, unless it is urgent.
Koike said Tokyo is now facing the risk of an explosive spread of infections.
She called on people coming back from abroad to abide by the 14-day self-quarantine rule.
Five of the newly confirmed cases were people who recently returned from overseas.
11 others have been traced to a hospital where a nurse and a patient were confirmed infected on Tuesday.
Tokyo reported a record number of infections for three straight days through Wednesday. 16 were confirmed on Monday and 17 on Tuesday. The increase prompted one expert on infectious diseases to call for more drastic measures to fight the virus spread.
Professor Atsuo Hamada at Tokyo Medical University said that over the past few days, people who returned from abroad to Tokyo and other parts of Japan have tested positive for the virus. He added that if there is an explosive increase in the number of infections, hospitals will be overloaded and such a situation must be avoided.
More than 1,200 cases have been reported in Japan. That does not include the over 700 cases from the Diamond Princess cruise ship.
45 people have died including 10 from the cruise ship. Nearly 900 people have recovered and left hospital.
東京都の小池知事は25日午後8時すぎから緊急会見を開き、今週末の不要不急の外出を控えるよう都民に要請しました。  小池都知事:「平日につきましては、仕事についてはできるだけ自宅で行って頂きたい。職種にもよりますが。夜間の外出についてもお控え頂きたいと存じます。この週末ですが、お急ぎでない外出はぜひとも控えて頂くようお願い申し上げます。改めて、今の状況がどういう状況にあるかと一言で表しますと、『感染爆発の重大局面』と捉えて頂きたいと存じます」  会見は午後8時すぎから始まりました。小池知事は25日、一日で新型コロナウイルスの感染者が41人に上ったことを明らかにしたうえで、今週末は不要不急の外出を控えるよう都民に要請しました。さらに、平日についてもできるだけ仕事を自宅でしたり、夜間の外出を控えるよう求めました。小池知事は現状について、感染爆発の重大局面であるとの認識を示しています。
Apr 08
Japan's prime minister has officially declared a month-long state of emergency for Tokyo, Osaka and five other prefectures to curb the spread of infections.
(NHK)
Apr 08
Japan's Cabinet has approved emergency economic measures of record proportions to deal with the impact of the coronavirus. The package is worth about 108 trillion yen, or one trillion dollars. The government plans to issue additional bonds to help fund the spending.
(NHK)
Apr 08
Prime Minister Abe Shinzo says he intends to call on people to stay home even though there will be no police crackdown on violations.
(NHK)
Apr 08
The Tokyo Metropolitan Government has begun moving people who have tested positive for the new coronavirus but have only mild or no symptoms to a hotel.
(NHK)
Apr 07
As Japan faces a fresh wave of coronavirus infections and the government prepares for a state of emergency, medical staff say a shortage of beds and a rise in cases linked to hospitals are pushing Tokyo's medical system to the brink of collapse.
(Japan Today)
Apr 07
Health officials confirmed 143 new coronavirus cases in Tokyo and 16 prefectures on Monday, bringing the total number of confirmed cases in the country to 4,000.
(NHK)
Apr 07
Japan's government is set to compile an emergency economic package of 108 trillion yen, or about one trillion dollars, to fight the impact of the coronavirus epidemic in the country.
(NHK)
Apr 07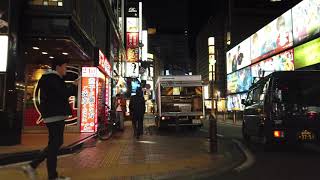 The Tokyo Metropolitan Government plans to request the closure of entertainment facilities if the prime minister declares a state of emergency based on a coronavirus-related law.
(NHK)
Apr 06
The governor of Tokyo has expressed alarm about the spread of the coronavirus as a daily record of 143 new cases was reported in the Japanese capital on Sunday.
(NHK)
Apr 06
Another 143 people in Tokyo were confirmed to be infected with the coronavirus on Sunday.
(NHK)
---