People having their sexual orientation or gender identity revealed without their consent has become a deepening problem in Japan, a country known for its culture in which the "nail that sticks out gets hammered down."
In recent years, there has a been a growing number of cases in which a person has been publically "outed" by someone they trust, sometimes resulting in the affected person feeling they have to quit school or work to escape the fallout.
In the most tragic cases, public outings have driven victims to fall ill, including causing them to suffer mental health issues or even to take their own lives. Experts argue that such malicious or careless intrusions into someone's personal life should be considered discriminatory and possible grounds for criminal charges.
Over the course of six years from March 2012, one private support center said it received 110 calls to its 24-hour hotline service from people aggrieved about being outed.
But, because the hotline did not categorize callers as having suffered an outing in fiscal 2011, fiscal 2013 and fiscal 2014, and due to the heavy volume of calls that went unanswered, the total is believed to be up to 24 times higher than the 110 documented cases, the Shakaiteki Hosetsu Support Center said.
Indeed, experts point out this is a perfect demonstration of the damage being done to members of the LGBT community.
According to the center, there were 31 calls by people wanting to talk about being outed in fiscal 2012, 42 in fiscal 2015, 19 in fiscal 2016 and 18 in fiscal 2017.
May 25
A male Canadian national employed at a day care facility in Kitakyushu City who was caught abusing a child on video has had his contract canceled by the facility, reports Fuji News Network (May 21).
(tokyoreporter.com)
May 23
Sony Corp. will tackle game addiction, its chief executive said Wednesday as the World Health Organization prepares to formally recognize it as a disorder.
(Japan Times)
May 22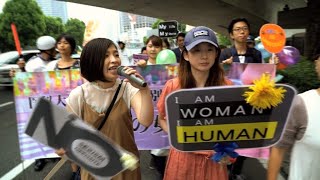 This year's pass ratio of female applicants for admission to the scandal-tainted Tokyo Medical University, which had discriminated against women for more than a decade, was slightly higher than that of male applicants, figures released by the university have shown.
(Japan Times)
May 20
In recent years, we've heard a number of disturbing accounts involving teachers hitting students at Japanese schools, and this week, another disturbing case came to light, when a foreign English-language instructor was seen slapping a two-year-old child during a class at a child daycare facility.
(Japan Today)
May 18
The Japanese school year starts in April, and one high school in Tochigi Prefecture wasted no time in scheduling a two-night class trip for its new crop of first-year students.
(soranews24.com)
May 17
The government said Thursday it plans to reduce the number of dementia patients in their 70s by 10 percent over the next decade, setting the first such numerical goal to curb growing welfare spending at a time when the Japanese population is rapidly aging.
(Japan Today)
May 11
Japan enacted legislation Friday making preschool education free as part of Prime Minister Shinzo Abe's drive to expand child care support and stem the country's falling birthrate.
(Japan Today)
May 08
A 15-year-old junior high school girl killed herself last week after leaving a note accusing a male coach at her table tennis club of verbal abuse, a local education board said Monday.
(Japan Times)
May 05
May 5 is Children's Day in Japan. But the number of children in the country has declined for 38 straight years since 1982, and is now at an all-time-low.
(NHK)
May 01
A 56-year-old man has admitted to leaving knives on the desk of Prince Hisahito at a junior high school in Tokyo, investigative sources said Tuesday.
(Japan Today)
---