Organizers have marked 100 days to go before the opening of the Rugby World Cup by saying the challenges of staging the sport's showpiece event in a non-traditional rugby nation have largely been overcome, most particularly with ticket sales.
The Sept 20 to Nov 2 tournament will feature 20 teams playing across 12 cities stretching from Japan's northern main island of Hokkaido to Kyushu in the southwest.
"Obviously, there was a bit of a language and cultural challenge early on," World Rugby chief executive Brett Gosper said Wednesday. "There was probably not a lot of big-event experience here other than the 2002 (soccer) World Cup...but I think those challenges have dissipated over time."
It's the first time the event will be held outside of the traditional rugby strongholds, having started in 1987 with a Rugby World Cup held jointly by Australia and New Zealand. The tournament has also been hosted across Britain and Ireland, France and South Africa.
Ticket sales were a big concern early on but according to organizers, about 5.5 million applications have already been made for 1.8 million available tickets. World Rugby said in a statement that 80 percent of available tickets have been sold with unprecedented demand from fans in more than 170 countries.
Organizers also see the tournament as a chance to tap into the vast potential of the Asian market.
The popularity of the sport has grown since Japan stunned two-time champion South Africa at the 2015 World Cup in England in what was one of the biggest upsets in the history of the tournament.
Sep 21
The Rugby World Cup has kicked off in Japan. It's the first time an Asian country has hosted the tournament.
(NHK)
Sep 20
An online streaming service designed for the more than 400,000 overseas visitors expected here over the next two months for the Rugby World Cup was launched this week by J SPORTS, one of the three broadcast rights holders in Japan.
(Japan Times)
Sep 18
Japan may be ready to host a "spectacular Rugby World Cup," but serious questions remained Tuesday as to what impact it will have on the nation, particularly with the Tokyo Olympics just a year away.
(Kyodo)
Sep 16
In Major League Baseball, former Seattle Mariner player Ichiro Suzuki has made his first public farewell since his retirement at the team's home stadium. The Japanese baseball superstar expressed his gratitude to his fans in English.
(NHK)
Sep 15
Two octopuses predicted Friday that Japan will not advance to the knockout stage of the Rugby World Cup, which opens next week.
(Japan Times)
Sep 11
Shoya Nakajima's and Takumi Minamino's first-half goals lead Japan to a 2-0 win away over Myanmar as the Samurai Blue opened their 2022 World Cup qualifying campaign with a victory.
(Japan Times)
Sep 10
Yokozuna Hakuho has withdrawn from the ongoing 15-day Autumn Grand Sumo Tournament with a broken finger, his stablemaster said Monday, following a shock opening-day loss to rank-and-filer Hokutofuji.
(Japan Times)
Sep 08
Japan will enter the Rugby World Cup believing they have made the necessary preparations to achieve their goal of a berth in the quarterfinals, head coach Jamie Joseph said Saturday.
(Kyodo)
Sep 06
South Korean Olympic officials have called on Japan to ban its "rising sun" flag at the 2020 Tokyo Games after claiming it represents a "militaristic and imperial past."
(Japan Today)
Sep 05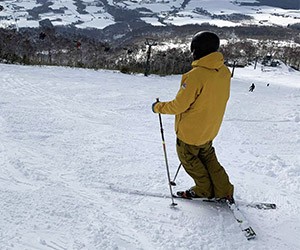 It is not ground breaking news to hear that Japan's ski industry is booming, each winter record levels of international tourism are achieved, driven largely by a growing global awareness and explosion in Asian ski culture.
(newsonjapan.com)
---