Japanese military conducts live-fire exercises
陸自が富士総合火力演習 国内最大規模の実弾訓練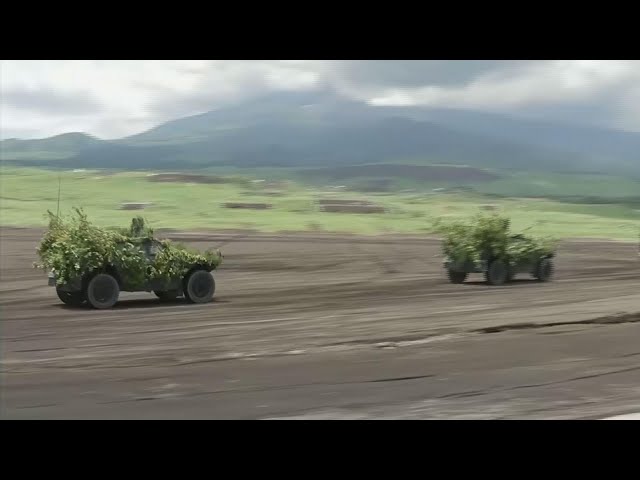 Japan's Ground Self-Defense Force held its annual live-fire exercises at the foot of Mount Fuji in central Japan on Saturday.
Some 3,300 personnel and 36 tanks and other vehicles took part. The drills were held at the GSDF's Higashi-Fuji training camp in Shizuoka Prefecture.
They are among the largest live-fire exercises conducted by the Self-Defense Forces in Japan.
They were based on the scenario that a remote Japanese island had been invaded.
An amphibious rapid deployment brigade specializing in landing operations was deployed. It used amphibious vehicles and Osprey transport aircraft, which were being used in the annual drills for the first time.
Parachute troops jumped from helicopters.
An electronic warfare unit jammed enemy command communications before tanks and armored fighting vehicles opened fire.
Various other weapons were also used, including howitzers, which the United States and Germany have been providing to Ukraine.
GSDF officials say 57 tons of ammunition worth more than 8 million dollars will be used by the end of the drills on Saturday night.
The exercises were not open to the public for the third consecutive year due to the coronavirus pandemic.
May 29 (ANNnewsCH) - 陸上自衛隊の国内最大規模の実弾を使った訓練「富士総合火力演習」が離島を守る想定で行なわれています。 ...
continue reading
---
Ex-Olympic organizing committee director, 3 others arrested
NHK - Aug 17
A former director of the Tokyo Organising Committee of the Olympic and Paralympic Games has been arrested on suspicion of accepting bribes.
---
Japanese residents and ministers visit controversial WWII Shrine
WION - Aug 15
In Japan, several politicians and thousands of residents visited Tokyo's controversial Yasukuni shrine on the occasion of 77th anniversary of Japan's surrender which ended the 2nd World War.
---
Japan new cabinet has at least 20 deputies linked to Unification Church
Nikkei - Aug 14
At least 20 Japanese lawmakers appointed as deputies for cabinet members confirmed Friday that they had links to a controversial religious group, after Prime Minister Fumio Kishida called for a self-check and review to appease a wary public.
---
Unification Church says Japan members received death threats
Japan Today - Aug 11
Unification Church followers in Japan and their families have faced harassment and death threats since the assassination of former Prime Minister Shinzo Abe, the organization's Japanese branch said Wednesday.
---
Kishida enlists seasoned hands to tackle energy, defense
Nikkei - Aug 11
As Japan faces a myriad of challenges from the coronavirus to an increasingly complex security landscape, Prime Minister Fumio Kishida has packed his cabinet with seasoned lawmakers who he hopes can tackle them head-on.
---
Japanese PM shakes up cabinet amid anger over Unification church links
theguardian.com - Aug 10
Japan's prime minister, Fumio Kishida, has removed ministers associated with the Unification church in a cabinet reshuffle aimed at reviving his fortunes amid a public outcry over his party's ties to the religious movement.
---
Nagasaki calls for peace on 77th anniversary of atomic bombing
NHK - Aug 09
People in Japan are remembering the victims of one of history's most catastrophic wartime attacks. Tuesday marks 77 years since the atomic bombing of Nagasaki during World War Two.
---
Support for Japan PM's cabinet lowest since it was formed: NHK reports
brecorder.com - Aug 09
Public support for Japanese Prime Minister Fumio Kishida slid to the lowest level since he took office last October, with voters questioning his decision to hold a state funeral for former premier Shinzo Abe, public broadcaster NHK said on Monday.
---
On Japan's Yonaguni island, fears of being on the front line of a Taiwan conflict
NPR - Aug 06
YONAGUNI ISLAND, Japan — For years it was known as the "Two Gun" island – one gun for each of the two policemen stationed here.
---
Minister denies politics played role in ex-Unification Church's name change
NHK - Aug 06
A Japanese Cabinet minister has denied that politics played any role in a decision by the government to certify the then-Unification Church's name change in 2015.
---
Japan to roll out Omicron-targeted COVID vaccine as early as Oct.
Kyodo - Aug 06
The Japanese government plans to roll out a new type of COVID-19 vaccine considered effective for the Omicron variant as early as October, sources familiar with the matter said Friday.
---
Japan's prime minister calls for 'immediate cancellation' of Chinese military drills
FRANCE 24 English - Aug 06
Japan's prime minister on Friday condemned China's firing of ballistic missiles during military drills around Taiwan, calling them a "serious problem that impacts our national security and the safety of our citizens."
---
Politics Page:
1
|
2
|
3
|
4
|
5
|
6
|
7