Opting for a residence permit in Greece
Greece's residence permit provides its holders with a range of rights in the country. In particular, tax residency is given to those who stay in the country for over 183 days.
This program is beneficial for non-EU citizens because it opens the way to great travel opportunities. In fact, it is also suitable for UK citizens who wish to enjoy the same benefits as residents of EU countries.
What Is a Greece Residence Permit?
A Greek residence permit allows an applicant to stay in the country for two years with access to all the related benefits. The status can be renewed every three years. Many people seek tax residency in the country because it allows them to benefit from a favorable taxation system. Read more detailed info on that provided by the experts of Immigrant Invest - https://immigrantinvest.com/residence-and-citizenship-greece-en/.
How to Obtain a Greek Residence Permit
A residence card can be given upon an investment program. There are several types of residence permits. For example, those who obtain the residency in Greece due to investment can get the following types of visas:
Schengen Visa — C (allows staying in the country for up to 90 days within six months)

National Visa — D (allows staying in the country for one year)
A resident permit will be a step toward obtaining citizenship in the country. Immigrant Invest has provided sufficient information on that - https://immigrantinvest.com/blog/how-to-obtain-greek-citizenship-en/.
Those looking for long-term Greek residency can opt for a golden visa. It gives a five-year Greece residency right away.
Like tax residency, it provides access to a favorable taxation system as well as great traveling, work, and business opportunities. The applicant can apply every five years to renew one's residence card.
Investment Options
There are several investment options to choose from for those willing to apply for a Golden Visa for Greece. They include the following:
Purchasing a real estate property

Making a direct investment

Depositing funds in a Greek bank
The amount of money required for investment depends on its type. For example, it is enough to purchase property for the price of €250,000 or greater, while if you are willing to make a deposit in a Greek bank, it must be in the amount of at least €400,000.
Except for the investment, the applicants will also need to pay certain fees. A residence card can also be obtained by the family members of the applicant. Other requirements may also apply to the main candidate and one's family members.
Which Option to Choose?
When it comes to obtaining a Greek residence permit, applicants have different options to pick from. It is essential to understand the differences between various programs. The essential conditions to keep in mind include:
The desired length of stay in the country

Available funds

The purpose of stay

Others
It may be difficult to decide what type of permission you wish to obtain. Specialists can provide you with the necessary support. Also, they will take care of collecting the required documents and applying with the responsible authority.
Conclusion
There are different options that you can consider when it comes to staying in Greece and taking advantage of other benefits, such as tax residency. The best opportunities are provided by Greece Golden Visa, but this option is available for wealthy candidates who are willing to spend a solid amount of money. By consulting experts, you will be able to avoid mistakes when choosing the right program and lots of hassle associated with the application procedure.
---
Sustained rains in Japan leave damage, landslide risks
Kyodo - Aug 06
Torrential rains have continued to fall across a wide part of Japan on Friday, with record downpours reported in Fukui and Shiga prefectures as rivers have overflowed and many areas are left at increased risk of landslides.
---
Heavy rain lashes Sea of Japan coast
NHK - Aug 05
Officials are warning of more rain on Friday after record rainfall hit parts of the Japanese region of Hokuriku and Niigata and Yamagata Prefectures from Wednesday through Thursday, causing flooding and landslides. They are urging vigilance over landslides and flooding in low-lying areas.
---
JAL system makes air travel easier and lets you keep laptops, liquids in bag for security check
soranews24.com - Aug 05
Passengers can keep computers and liquids inside their carry-on until they actually want to use them, thanks to new system.
---
Revitalization of Japanese tourism to Hawaii slower than expected
kitv.com - Aug 04
The highly anticipated return of Japanese travelers to Hawaii was expected to dramatically increase with foreign border restrictions loosening back in June 2022.
---
Heavy rain causes wide damage in north, central Japan
NHK - Aug 04
Japan's Meteorological Agency has issued an emergency heavy rain warning for Niigata Prefecture, next to Yamagata Prefecture, where the same warning was issued on Wednesday night. It's a level 5 alert, the highest on the emergency scale.
---
Kanto lighting up the night sky for the first time in three years
時事通信トレンドニュース - Aug 04
"Kanto Festival" is being held in Akita City for the first time in three years.
---
JAPANESE FESTIVALS are CRAZY (it was too hot!) *street food, dancing, and games*
ちゅーそんちゃんねるChuson Channel - Aug 04
We are going to Tokyo SkyTree for a festival.
---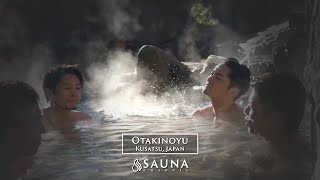 Ohtaki No Yu - Kusatsu, Japan
Sauna Channel - Aug 04
Time to relax in one of Kusatsu's natural hot spring baths, commonly known as onsen, with Sho Ikushima at Ohtaki No Yu.
---
Heatwave continues to grip western, eastern Japan
NHK - Aug 03
The ongoing heatwave is gripping wide areas of western through eastern Japan on Wednesday, with the mercury reaching 39 degrees Celsius in some cities near Tokyo. Officials are urging people to take full precautions against heatstroke.
---
Japan swelters as temperatures climb over 30 C
Japan Today - Aug 02
Temperatures rose across Japan on Tuesday, topping 30 C from the morning in 380 locations, with the weather agency warning of heat-related illnesses.
---
Mercury tops 39 degrees in Obama City on Sea of Japan
NHK - Aug 01
Scorching heat prevailed again on Monday over wider Japan, with temperatures soaring above 39 degrees Celsius in Obama City on the Sea of Japan coast.
---
Japan is open to travel. So why aren't tourists coming back?
CNN - Aug 01
Summer 2022 has been dominated by stories about travel mishaps, overcrowding at major destinations and airports and life-threatening heat waves in Europe. Yet in Asia, where many countries are reopening in a more gradual fashion -- with fewer flight cancellations or horror stories about lost luggage -- tourists have been slow to come back.
---
Travel Page:
1
|
2
|
3
|
4
|
5
|
6
|
7