Japan raises cap on daily arrivals to 20,000
きょうから水際対策緩和 入国者上限1万人→2万人に 外国人観光客10日から受け入れで7日にガイドライン公表
Japan has doubled the daily limit on the number of people entering the country to 20,000, starting on Wednesday.
The country resumed new entries of foreign visitors other than tourists on March 1. The government raised the daily cap on arrivals to 5,000 on the same day, to 7,000 on March 14 and to 10,000 on April 10. It did so while watching the infection situation in Japan and around the world. They also observed quarantine measures at domestic airports.
The government also eased COVID-19 quarantine measures. Countries and regions have been divided into three groups, depending on risk factors such as rates of positive test results upon arrival in the past.
Visitors from 98 countries and regions in the low-risk group will be exempt from virus testing and self-quarantine even if they have not been vaccinated against the coronavirus.
People from 99 countries and regions in the medium-risk group are exempted from tests and self-quarantine if they have received three shots of COVID-19 vaccine.
The government plans to resume accepting foreign tourists from June 10 for the first time in about two years. Those tourists will be limited to people from the low-risk group and must be part of tours accompanied by attendants.
Jun 01 (TBS NEWS) - 政府はきょうから新型コロナの水際対策を緩和し、1日あたりの入国者数の上限を2万人に倍増させます。 ...
continue reading
---
Scorching weather forecast until Friday in many parts of Japan
NHK - Aug 08
Japanese weather officials are urging people to take precautions against heatstroke, as sweltering heat is expected in many parts of the country in the coming days.
---
Sendai star festival draws large crowds despite fresh COVID wave
Kyodo - Aug 07
An annual star festival in the northeastern Japan city of Sendai, known for its hundreds of brilliant hanging decorations in shopping areas, commenced Saturday with the biggest crowds expected since the start of the coronavirus pandemic.
---
Sustained rains in Japan leave damage, landslide risks
Kyodo - Aug 06
Torrential rains have continued to fall across a wide part of Japan on Friday, with record downpours reported in Fukui and Shiga prefectures as rivers have overflowed and many areas are left at increased risk of landslides.
---
Heavy rain lashes Sea of Japan coast
NHK - Aug 05
Officials are warning of more rain on Friday after record rainfall hit parts of the Japanese region of Hokuriku and Niigata and Yamagata Prefectures from Wednesday through Thursday, causing flooding and landslides. They are urging vigilance over landslides and flooding in low-lying areas.
---
JAL system makes air travel easier and lets you keep laptops, liquids in bag for security check
soranews24.com - Aug 05
Passengers can keep computers and liquids inside their carry-on until they actually want to use them, thanks to new system.
---
Revitalization of Japanese tourism to Hawaii slower than expected
kitv.com - Aug 04
The highly anticipated return of Japanese travelers to Hawaii was expected to dramatically increase with foreign border restrictions loosening back in June 2022.
---
Heavy rain causes wide damage in north, central Japan
NHK - Aug 04
Japan's Meteorological Agency has issued an emergency heavy rain warning for Niigata Prefecture, next to Yamagata Prefecture, where the same warning was issued on Wednesday night. It's a level 5 alert, the highest on the emergency scale.
---
Kanto lighting up the night sky for the first time in three years
時事通信トレンドニュース - Aug 04
"Kanto Festival" is being held in Akita City for the first time in three years.
---
JAPANESE FESTIVALS are CRAZY (it was too hot!) *street food, dancing, and games*
ちゅーそんちゃんねるChuson Channel - Aug 04
We are going to Tokyo SkyTree for a festival.
---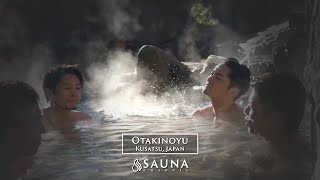 Ohtaki No Yu - Kusatsu, Japan
Sauna Channel - Aug 04
Time to relax in one of Kusatsu's natural hot spring baths, commonly known as onsen, with Sho Ikushima at Ohtaki No Yu.
---
Heatwave continues to grip western, eastern Japan
NHK - Aug 03
The ongoing heatwave is gripping wide areas of western through eastern Japan on Wednesday, with the mercury reaching 39 degrees Celsius in some cities near Tokyo. Officials are urging people to take full precautions against heatstroke.
---
Japan swelters as temperatures climb over 30 C
Japan Today - Aug 02
Temperatures rose across Japan on Tuesday, topping 30 C from the morning in 380 locations, with the weather agency warning of heat-related illnesses.
---
Travel Page:
1
|
2
|
3
|
4
|
5
|
6
|
7